Don't Poke the Queen: a new anthem for the British Monarchy Facebook page
By Alexandra Petri
The Queen is on Facebook?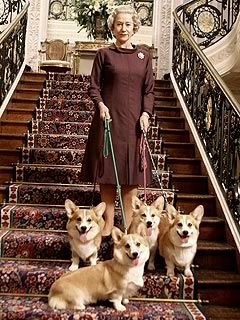 Well, sort of. The British Monarchy now has its own Facebook fan page -- holding strong at over 77,000 fans, far more than other traditional forms of government like the House of Hapsburg.
I wish they'd notified Facebook sooner so she could get a real page with royal-appropriate buttons. Instead of "like," she could click, "We are amused." Instead of "Dislike," whenever that comes out, there would be a royal "We are not amused" button. "Friend" someone? British Monarchs don't friend! They "Bestow a Royal Order Upon." "Poke"? Please. "Shut One's Eyes And Think Of England With."
So, in honor of this newest development, and in case the Queen herself ever gets a real account rather than just a page, here is an updated anthem:
Don't poke our gracious Queen
Just leave her page serene
Don't poke the Queen
Don't try to get her to
Become a fan of you
And that goes for your rock band too
Don't poke the queen.
Just "like" our gracious Queen
Then quickly leave the scene
Don't poke the Queen.
Sure, your phone's got four g's
But don't tag her in orgies
Not even if they involve corgies
Don't poke the Queen.
By Alexandra Petri | November 8, 2010; 11:18 AM ET
Categories: From bad to verse, Only on the Internet, Petri | Tags: Facebook, the Queen, the power of myth
Save & Share:
Previous: I know why Keith Olbermann's suspension ended so quickly
Next: Top 11 Cosmo relationship tips, applied to Obama and House Republicans
Posted by: divtune | November 8, 2010 6:01 PM | Report abuse