Meet Your New D.C. United Draft Picks: Jay Needham
If you're like me, you've always thought the one thing the D.C. professional sporting world really needed was a greater connection with Chris Mihm. Well, I'm here to tell you, we're all in luck! D.C. United's other third-round pick, in addition to Georgetown's Ricky Schramm, was SMU defender/midfielder Jay Needham, a Hermann Trophy finalist, National Soccer Coaches Association of America first-team all-American, College Soccer News first-team all-American, David Beckham admirer, hardcore Dallas Cowboys fan, and the boyfriend of the sister of L.A. Lakers center Chris Mihm, which has to mean that there's at least a five percent chance Chris Mihm joins Brian Davis and Christian Laettner in the Barra Brava/Screaming Eagles section at some point in the near future.
[Note to Needham and Mihm family members: I'm not a gossip rag. I swear. Jay volunteered this information in response to a question about Gilbert Arenas, whom he admires. I swear. He said Chris Mihm is a great guy who's helping him transition into the world of pro sports, so I figured it was relevant.]
So anyhow, let me start from the beginning. Jay Needham's dad was a collegiate distance runner, but growing up in Forth Worth, Jay was always a soccer player. In high school he played with the powerhouse Dallas Texans, where he was teammates with Hunter Freeman (now of the Colorado Rapids) and Ramon Nunez (now of FC Dallas). He played all over the field; his senior year of high school he was an all-Metro forward who scored 25 goals in 13 high school games. His college choices were down to Wake Forest and SMU, but he's a family guy, and SMU was an hour away, and he figured it'd be nice to stay close to home. He's never lived outside the state of Texas.
He was recruited to SMU as a central midfielder, but Coach Schellas Hyndman "needed someone [on the back line] who was a rock," and so the 6-foot-2 Needham immediately became the Mustangs' starting center back, scoring a goal in his first game and remaining on the back line his entire career. His junior year, SMU went to the Final Four, "through [Needham's] great leadership and defensive play," Hyndman told me this afternoon. His senior year, he was one of three finalists for the Hermann Trophy, college soccer's take on the Heisman. The vague consensus seemed to be that he was a late-first-round or early-second-round kind of guy in the SuperDraft.
But his draft day experience was sort of the opposite of Ricky Schramm's; he was waiting for his name to be called and not hearing it. After the second round, he started worrying: "I was like 'Oh crap, what's going on here, did I say something wrong?'" he told me. He sent a text message to his agent, who told him to stay confident. Finally he got snatched up by D.C., the sixth pick of the third round. He and his family went out to eat, and then Jay went to work out, trying to blow off some steam.
I asked if he had expected to go earlier.
"I'm not going to lie to you on that," he said. "It was kind of nerve-wracking, watching the rounds pass by. But for me to get picked by D.C. was kind of a dream come true, to be honest with you."
Jay wasn't the only one who thought he'd go earlier.
"I was surprised and, to be quite honest with you, a little disappointed that he wasn't given more credit for all the things he did in college," Hyndman told me, while acknowledging that he hadn't seen the pre-draft combine and didn't know how Needham had performed.
Anyhow, Needham heard his stock was hurt by a perceived lack of pace, so he's working on that right now, doing interval training, running steps and doing sand sprints in Southern California, where he's also visiting his girlfriend, who happens to be Chris Mihm's sister and who happens to live about one minute from the beach. He's been to Germantown for club tournaments but has never been to the District, doesn't know anyone on D.C. United and isn't sure where he'll stay; "If anyone has any suggestions, feel free to shoot 'em my way," he said.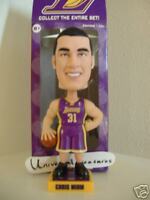 He admits to being a huge Cowboys fan; "they're going to kill me when I wear my hat around," he told his dad after he was picked by DCU.
He's not an "American Idol" fan at all, although when I warned him he was treading on dangerous Bog ground he apologized, saying "I take it back, I love the show, I love the show."
He said Chris Mihm's ankle injury has prevented them from staging a battle of soccer/basketball, and that "I wouldn't want to get slaughtered all day by some 7-footer," but they do hang our regularly and he said their competitive natures will probably lead to some sort of exhibition at some point.
More importantly, I guess, Hyndman said Needham is "a heck of a midfielder," can play on both sides of the field and has "a great soccer brain." I asked about his pro prospects.
"For sure he can play in MLS," Hyndman said. "He's just a soccer player, you know?"
And while Jay didn't get all Agent Zero about his draft-day snub, he did say it gave him some extra motivation.
"Exactly," he said. "You can always use bulletin-board material. It's a lot easier to go and work out now, knowing that people are doubting you. It's always fun to prove people wrong."
Closing note No. 1: The DCenters were happy with the pick.
Closing note No. 2: I so hoped that my blog post on Ricky Schramm would elicit comments from his mother, a la Bobby Boswell's mom. In fact, it did. But alas, Elise Schramm somehow posted on Harv's World instead of over here. Come back over here, Ms. Schramm! Jay's parents should also feel free to post. This is sort of the official D.C. United Parents' Board.
Closing note No. 3: I've talked to two New D.C. United Draft Picks. Both called me Mr. Steinberg. Man. Can't wait to tell Mr. Goff about that one.
Closing note No. 4: Jay Needham asked whether I worked for The DCenters. I believe The DCenters have far more national name recognition than the Sports Bog does.
By Dan Steinberg | January 17, 2007; 5:39 PM ET
Categories: D.C. United
Save & Share:
Previous: Local Hoops Poll Week Seven: Additional Pithy Comments
Next: No Wonder Kwame Had Those Stomach-Aches
The comments to this entry are closed.