Austin Kearns and John Deere Hats
I went to yesterday's Nats game. Basically, I was there to try to find something quirky enough for my appearance on Washington Post Live. Which is why my heart fluttered when I saw Austin Kearns walking off the field following batting practice, with two vibrant green John Deere baseball caps in his hands. That's quirky, right?
"The hats? John Deere, man," he told me, as if no further explanation was needed.
"Yeah, I don't understand," I said.
"You don't?" he said. "I'm a Kentucky guy. You know, I support John Deere tractors. Got some friends who own some stores and that kind of thing, so I'm just showing my support."
I have friends who work at National Geographic and for large chemical companies, and I've never worn their merchandise, which might make me a bad friend, but no matter. Actually, it turned out that the hats were presented to Kearns by Bob Carpenter, which Kearns called "a surprise, a pleasant surprise." Carpenter, the team's TV play-by-play man, has a high school buddy who works as a PR guy for John Deere, and he told this friend about Kearns's habit of wearing John Deere hats during the team's charter flights, and... Wait, his habit of doing what?
"He's been known to get on the charter with a shirt, pants, a nice sport coat and a John Deere hat," Carpenter told me. "It's part of his persona, and there's nothing phony about it. That's who he is."
[I should note that I had never met Bob Carpenter before yesterday. When he became enmeshed in this story, I went up to introduce myself, and explained that I do a blog and all that.
"Aren't you supposed to be calling me from a basement or an attic or something?" Carpenter said, eliciting guffaws from people who write for dead-tree products. "I thought you guys never see the light of day. It's great to see you out at the ballpark." Etc.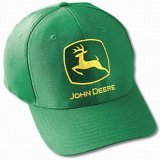 It was open season on bloggers or something. Later, when I told Stan Kasten that my readership numbers had declined during my paternity leave, he asked whether I have a rebuilding plan for '08. Really, he did.]
Back to Kearns. I should have known this, but Kearns's former teammate with the Reds, Jason LaRue, was honored with Jason LaRue John Deere Hat Giveaway night last year. It was blogged about at The Big Red Mechanic and Red Hot Mama. Kearns said he has two or three John Deere hats, and that he used to have more, but that he's given some away. Matter of fact, "I'm gonna give one of these to Felipe, he wants one," Kearns told me.
Felipe Lopez? Wants a John Deere hat?
"Oh yeah," Kearns said. "You know, he's well-rounded."
And no, I didn't make any jokes about certain Nationals infielders who have been accused of being well-rounded, if you know what I mean. Instead, I asked Carpenter about the Lopez/Deere connection.
"That's interesting," Carpenter said. "Well, maybe Felipe likes country music, I don't know."
If you were curious, Kearns has driven John Deere tractors, but not frequently. He's from Kentucky, but wasn't raised on a farm or anything. Actually, he's never even been to the Kentucky Derby, since it always conflicts with baseball season. But he does appreciate other Kentucky products. Bourbon, for example.
"Absolutely," he said. "I was telling one of the umpires the other day, we were talking about how cold it was. A couple umpires we had were from Kentucky, and I said, 'We need some Maker's Mark'."
He also likes Woodford Reserve. These are the things you learn when you see a ballplayer carrying John Deere hats away from batting practice. Anyhow, I asked Carpenter whether he wears any John Deere hats himself.
"Nooooo, I'm a city boy," he said. "Now, if they sent me a free riding lawnmower or something, I'll wear the hell out of that hat."
Kearns, though, said he wasn't looking for an endorsement deal.
"Nah, I don't think so," he said. "I'll stick with the hats."
Oh, and at the end, I told Kearns that this would likely not be the dumbest thing I asked him about this season.
"I don't doubt it," he said.
[Also, having cursed the Wizards, I'm trying to make sure that doesn't happen when I visit other local teams. Last night, after the John Deere conversation, Kearns was 3 for 6, Lopez got the game-winning RBI, and the Nats won.]
By Dan Steinberg | April 19, 2007; 2:35 PM ET
Categories: Nats
Save & Share:
Previous: A Wizards Bobblehead Tale
Next: Monty Singh Harika and the Pursuit of Free Pub
Posted by: Chest Rockwell | April 19, 2007 2:52 PM | Report abuse
Posted by: Dave | April 19, 2007 3:09 PM | Report abuse
Posted by: Reader Glenn | April 19, 2007 3:15 PM | Report abuse
Posted by: Kim | April 19, 2007 3:16 PM | Report abuse
Posted by: the cheat | April 19, 2007 3:35 PM | Report abuse
Posted by: jamie | April 19, 2007 3:37 PM | Report abuse
Posted by: Nancy | April 19, 2007 4:48 PM | Report abuse
Posted by: twoeightnine | April 20, 2007 5:57 PM | Report abuse
The comments to this entry are closed.