J-Lo's Tattoos and Daughters
Jen Lopez, the wife of the Nats' Felipe, was helping promote last night's Stitch N' Pitch event, which will be discussed in this space later today. Anyhow, as part of this promotion, Jen was appearing on Washington Post Live, a television show on Comcast SportsyNet with which I used to be heavily affiliated. Since she was obviously making a media tour, I got in line for an interview, meaning I have now interviewed wives of Wizards and Caps and Nats.
Question One: Why are your daughters named Chaydin and Jaysha, a question Barry Svrluga danced around ages ago?
Answer One: "We liked Hayden, Payton, those types of names," Jen told me. "We kind of just threw some things together and made [Chaydin] up. But now with all the Braydens and Kaydens and Jadens it doesn't seem so different."
Then, for Jaysha, they wanted a name with the same basic feel as "Chaydin," and they were leafing through a name book, and lo and behold, they saw Chaydin.
"Which we were surprised about, because we thought we had made it up," Jen told me. "We were like, 'Ok, this book is cool enough.' So we kind of just picked a page and said, 'Ok, this is it'."
Later, I attempted to distract the two-and-a-half-year-old Jaysha by juggling some pens before Mommy's interview, but I kept dropping the pens, and Jaysha looked at me with pity. Then she yanked off Mommy's microphone during the interview.
Question Two: Do you really like knitting?
Answer Two: "I'm gonna become Jennifer Lopez, master knitter," she promised. "I went and got a DVD from Jo-Ann's, I think it was when I was pregnant with Jaysha.
"Well, let me go back, my grandma actually used to teach me when I was smaller," she explained. "I guess she kind of sparked the interest then. And then when I was pregnant with Jaysha I kind of picked it up again, and went and got my own DVD and started knitting. The DVD worked but it only taught me the basics, and ever since she started walking it's been kind of busy, so I haven't done it in while. All I can do is straight lines. So I'm pretty good at scarves. Coasters, I can do. I just don't know how to round off the edges. But we'll get there."
Jen said she was looking forward to getting some pointers from the other knitters in the crowd. I hope she succeeded. There were a lot of experts on-hand.
Question Three, supplied by Nats PR staffers: What do you think is the benefit of having Stitch N' Pitch at a baseball game?
Answer Three, not supplied by Nats PR staffers: "You want me to answer this for the world or for me?" Jen countered. "For me, it's to get me through a game."
Wait, you're saying you get bored at baseball games?
"Um, yeah," she admitted. "You know, it's not boring, but for people like me that have to sit through a lot of games a year, it becomes a little...tedious."
So do you read or something?
"Yeah, sometimes I do read, I can't even lie," she said. "But I watch the games. I do. I watch the games."
[For the record, I can't criticize any of this, since my big work at the ballpark yesterday was this interview, and also finding out that Stan Kasten spent years as a devoted viewer of "The Real World." I left during the first inning, nearly missing a no-hitter.]
Question Four: Does Felipe really like John Deere, as Austin Kearns once told me?
Answer Four: "I think I brought the country side out of him," confirmed Jen, who's from Boonsboro, Md. ("We just added our second traffic light, we're big time now," she said.)
"He likes country music, he has it on his iPod," she continued. "He actually probably knows more of the recent country music than I do. I know more old-school country music. Is it even called old-school if it's country? I don't know. But yeah, he does, he has it in there. He likes Toby Keith, he went to a Toby Keith concert with Adam Dunn last year."
On the other hand, Jen told me she knows more about line dancing than Felipe does. Speaking of John Deere, awesome Caps blogger Capital Addiction went to a Hershey playoff game and noted the following: "Scott Barney scored a hat trick, which caused the biggest concentration of John Deere hats I have ever seen to hit the ice."
Question Five: Felipe Lopez is famous for his tattoos, having so many that you've said you can't even count them any more. Do you have any tattoos?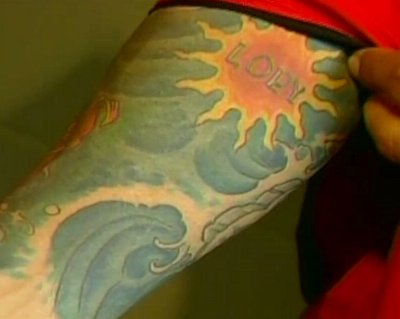 Answer Five: Two. A sunshine motif on the back, and a heart on the ankle, bearing Felipe's name.
Well, it "kind of looks like a heart," Jen said. "It looks like a lot of different things. We're trying to work out something that we can do with that to make it look legit....It wasn't good at all. It's actually pretty terrible."
Surely this must be disturbing to your well-inked husband, no?
"No, he's fine with it," Jen said. "He doesn't care either way. As long as I like it."
J. Lo (Nationals Insider)
Baseball Beauty Jennifer Lopez (FHM Online)
Felipe Lopez Tattoos (Red Hot Mama)
Felipe Lopez Q&A (Express)
By Dan Steinberg | May 15, 2007; 11:57 AM ET
Categories: Nats
Save & Share:
Previous: Art Monk for Hall of Fame: The Song
Next: Gilbert Contestants
Posted by: Rick Johnson | May 17, 2007 11:36 AM | Report abuse
The comments to this entry are closed.