Caron Butler Invests in Burger King
I know, I know. You're thinking it can't be true. The man pays homage, over and over again, to the straws from BK's arch deluxe rival, McDonald's. He stops in at McDonald's virtually daily to get such straws. But this release says it all. Caron's gone over to the flame-broiled side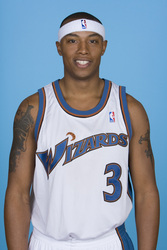 Recently, 18 BURGER KING® restaurants in Norfolk and Richmond, Va., were acquired by the following football and basketball stars: Marcus Allen, a professional football Hall of Famer; Caron Butler, of the Washington Wizards; Donnie Edwards, of the Kansas City Chiefs; Kevin Faulk, of the New England Patriots; and Michael Strahan, of the New York Giants, along with other investors that make up a new company, Ramsell Dining, LLC....

"As a teenager, I was a BURGER KING® crew member, and now I love being a part owner," indicated Caron Butler, a small forward for the NBA's Washington Wizards. "Deciding to invest in the BURGER KING® brand was an easy decision, because it represents not only a great investment opportunity but also a chance to build on the success of minority-owned franchises."
I wonder in what sense he "indicated" this. By nodding in the general direction of the PR person who was writing up his quotes about deciding to invest in the BURGER KING® brand? In any case, before you panic about the straws thing, recall that Caron said he also enjoys chewing BK straws. I wonder if he'll start wearing a crown in the locker room. Or if he can start bringing me some BK Veggies. Or if Etan Thomas will have trouble teaming with a corporate overlord.
By Dan Steinberg | July 26, 2007; 11:59 AM ET
Categories: Wizards
Save & Share:
Previous: A Redskins Wedding
Next: Shay Doron and Hava Nagila
Posted by: Mike | July 26, 2007 1:05 PM | Report abuse
Posted by: littles | July 26, 2007 6:36 PM | Report abuse
Posted by: alex | July 29, 2007 5:16 PM | Report abuse
The comments to this entry are closed.