Renaldo, Salave'a and the World's (Almost) Strongest Man
So in the offseason, Renaldo Wynn and Joe Salave'a went to do some training with Mark Philippi and his Philippi Sports Institute in Las Vegas, where Wynn has family. Philippi, of course, is a seven-time participant in the World's Strongest Man competition, so I had exciting visions of Wynn and Salave'a doing the Atlas Stones and the Pillars of Hercules and carrying giant logs and refrigerators and all the rest.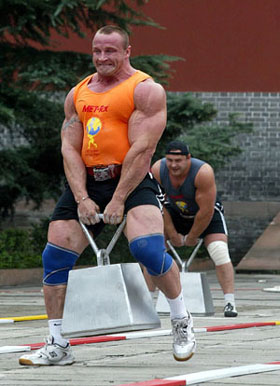 Well, not exactly, but not too far off.
"Big 150-pound boulders and that type of thing," Wynn said.
"Grueling, intense," Salave'a said. "I'm glad the NFL Network and our Redskins camera crew wasn't there, because you're talking about a grown man puking. That's just the intensity."
The vomit, I must admit, piqued my interest. In terms of losing one's lunch, both guys focused on a drill called "The Drag," during which using just their hands they pulled an extra heavy weight--"how much does a tractor trailer weigh," Wynn said--an extra-long distance.
"At least 40 yards," Salave'a said.
"Probably about 100 yards," Wynn said.
As to the question of exactly which player might have upchucked, it was hard to get a straight answer.
"Renaldo did; he'll probably say it was me," Salave'a said.
"Not me, not me," Wynn said. "C'mon now. He wants to go ahead and put it on me, huh? No, no, no, no."
"There's a lot of things I don't want to disclose because I don't want to embarrass my teammate; hopefully he won't embarrass me," Salave'a said.
"Oh man, he snuck in the bathroom a few times, disappeared after a workout," Wynn said. "I didn't know where he was at, man."
There are plenty of other athletes who have been working out with Philippi, including Mike Flanagan, Mike Wahle, Shawn Marion and, yes that's right, Jason Giambi, which is probably not a name you want to hear in connection with offseason workouts. I asked Wynn whether the subject of steroids came up with Giambi, and he said indeed it had.
"You know what, it's good to hear from a player their point of view," Wynn said. "People don't always know the inside scoop until they talk to a guy. And when Jason kind of mentioned it, he was like 'Look man, I'm not justifying all the steroid stuff, but with Selig, he's making a big emphasis about Bonds and all this stuff. The point of the matter is this thing has been going for the last however many years. Bud Selig knew about it. And it wasn't even against the rules.'...
"When Jason Giambi talked about that, training in Vegas, I saw it from a different perspective. Now all of the sudden they want to point the finger, when all this stuff was legal back then. Bud Selig knew that, now all of the sudden he wants to make a big deal about it? I mean, let's talk about then, when you guys weren't testing and you guys were saying 'Ok, that's ok for you guys to take this stuff.' I mean, guys are going to do whatever it takes in a legal sense to try to make their game the best they can."
But that's all serious. What I wanted to know was, were these guys now ready to drag actual tractor trailers?
"One more week and we would have been taken out to the parking lot," Salave'a said.
And were they read to take down Magnus Ver Magnusson?
"Heck no," Wynn said. "Not even close, man. Those guys are lifting cars. No man, that's a totally different thing."
By Dan Steinberg | July 31, 2007; 5:44 PM ET
Categories: Redskins
Save & Share:
Previous: Redskins Still Think They Can Dance
Next: Skins Go 'Stache
The comments to this entry are closed.