Telling the Whole Story*
Dan Steinberg is on vacation. Despite his massive photo above, this was not written by him. It was written by the gents over at D.C. Optimist, which you must read. Other guest bloggers will check in later today, and all week. Anyhow, the Optimists write below, and please provide extra comments to make them feel at home:
We here at the DC Optimist often embrace an ebullient attitude when it comes to our city-representers of the sporting variety. In addition to procuring the lightness from the dark attitudes of frustrated sports columnists, we often look back into the past of our franchises and enjoy both the glorious and the less glorious memories they conjure. But recent situations have given cause to forget, to ignore, to erase the memory of times that should be thought of differently. For us that attitude applies in particular to two teams and their recent travails: travails brought on by unexpected, and in many cases unjust, circumstances.
2006-2007 Wizards' season
Remember when it was heydaying?
The Daggers, the Swags, the internet-going-nutses -- all of that was torn from us ever so proverbially by a Jordan mule, no doubt purposely ruining the team's playoff chances with his errant jumps for fantasy statistics (interesting how Michael rewarded Gerald Wallace in the offseason after the "contract hit"). During this most beneficial offseason of note, the Wizards, and their all-star guard Gilbert Arenas, seem to have endured many criticisms from folks who only looked to their .500 record and subsequent playoff sweep as evidence of their glaring problems. Take Michael Wilbon, who in a recent WaPo chat dismissed the prodigious talents of the 06-07 Wizard superstar as evident of his and his team's lingering mediocrity:
"...Last I checked, Agent Zero has had one post-season success, and a limited one at that, on which to hang his hat. And that was two years ago. Agent Zero isn't even...Kobe. He's not yet that important in the bigger scheme of things NBA. He'd better come back healthy and prove he can lead a team past the first round. Let him become a better defender and lead the Wizards to a division title so they won't have to be a 7-seed or 6-seed and then figure out his real stature in the NBA."
I for one wonder how Gilbert could have lead his team out of the first round and deal with the Kobe comparisons when he is on the bench wearing his sweet sweater vest/citrus tie combinations. Was Mr. Wilbon watching the Wiz during heydays? I can recall the Wizards being at the top of the Eastern Conference, having vanquished eventual number one seed Detroit Pistons in back-to-back games, earning Eddie Jordan an all-star game coaching recognition and numerous other accolades. Why are all of these accomplishments neglected?
For this reason we have developed a solution. In any representation of the Wizards' 2006-2007 record, add an asterisk. Many have bemoaned the usage of this note-generating grammatical additive where dubious distinctions like Roger Maris's home run record, and Mike Ditka's egomaniacal blowhardiness in the face of defeat have given the star-shaped super-scripted notation a bad name. It is the very essence of a negative "Yeah, but..." in sports. However, we think that the asterisk could have beneficial connotations. The way the Wiz swagged in early 06-07 was much more worthy of recognition than their final posted 41-41 (2nd Southeast). The asterisk would note this. So we ask any Wizards professional media representers, please add this tiny marking to all printings of the Wizards' 06-07 record, for it is unfair for the team to be thought of as unsuperior.
Nationals' recent history
The abuse heaped upon this franchise for more than a decade knew no limits. From the denial, via strike, of a sure-fire world championship in 1994, to the selling of the franchise to 29 competing entities in 2002, to the burden of "home games" in a foreign country, to the skin-flint management of aforementioned competing entities, to the waffling of the Commish on relocation (salvation), to the refusal of the same to sell the team to give them a competitive chance, to the extortion leveled by a Jealous Owner in another city and market, to the necessary purgatory of RFK, no team has had to endure more nonsense.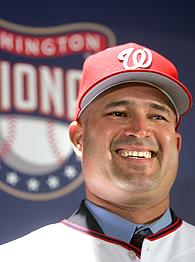 Now that the Commish has lined the proverbial pockets of his friends, and now that the Jealous Owner has been appeased, baseball that truly counts may be close at hand. Nevertheless, the recent events surrounding this team must not be forgotten, and must not be callously reduced to mere numbers in record books, lest our children be ignorant of this horrific story. Thusly, all references to the team's first three seasons in Washington should read:
2005: 50-31*
2006: 71-91**
2007: ***
* Team record only legitimate through 81 games. Nationals played valiantly against odds imposed by evil overseers Major League Baseball and Bud Selig for half a season before crushing injustices of previous years became too much to bear, thus negating season results from early July onward.
** Years of incompetent/indifferent management of major league roster and gutting of minor league system by MLB hive management leave the team no choice but to begin painful rebuilding process. Franchise further hampered by refusal of Premier Selig to sell the team to an actual owner until midway through season. The Plan (all hail!) is eventually put in place, though overall result of season still of questionable legitimacy.
*** Era of Manny begins. Final record inconsequential as franchise continues find its way out of Selig/MLB-dug hole. Optimism nevertheless flourishes in the salted wasteland. The Plan proceeds according to...plan.
It's only fair.
By Dan Steinberg | July 20, 2007; 8:45 AM ET
Categories: Nats , Wizards
Save & Share:
Previous: Chris Samuels Birthday Luau
Next: Worst Mascot in Baseball? You Betcha
The comments to this entry are closed.