The Terps: Things Fall Apart
In the past two months, my car has been stolen and crashed into uselessness, my cell phone has dissolved into two pieces with little technological bits sticking out of each, my IKEA bed has exploded and, just today, one of my shoes split in half while walking to work. But do you hear me complaining? Well, yeah, you probably do, but that's not the point.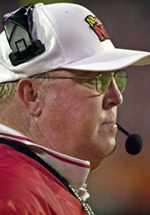 The point is, technology breaks as surely as the limbs of Britney's dogs. And yes, I consider shoes technology. So what you do is you replace your broken technology, or your dog's broken limbs, or you spend the day with one shoe (as I plan to do), and you move on.
Football players also break, fairly regularly. But it seems to me that lately, a sort of horrified shock over the idea of football injuries emanates annually from College Park, and is doing so again this summer. Every year, there are barely enough healthy players to soldier on. Every year, coaches are on the verge of sprinting into some chemistry lecture and grabbing Joe Engineer, forcing him to become a second-string linebacker who might see some starting time, depending on the opponent.
Today: "With so many kids out, we've had to put some kids on scout team that wouldn't be on scout team if other guys come back because we don't have enough guys to work against," [Coach Ralph] Friedgen said. "It's amazing. We've got 105 guys, and we can barely field a scout team because we have so many guys out."
Aug. 12, 2006: A recent spate of injuries may force Maryland Coach Ralph Friedgen to call off today's scrimmage, the first scheduled for training camp.
Aug. 19, 2005: "It's almost freaky the way things have happened," said Friedgen, who said he will run slightly abbreviated practices today and might cancel tomorrow's scrimmage [because of injuries]. "I don't know if we have, first of all, enough players to do it."
Aug. 17, 2005: "This hasn't been one of my better weeks," said Coach Ralph Friedgen, who said he had trouble sleeping Monday night because of the spate of injuries.
Nov. 12, 2004: Friedgen closed practice this week because he was concerned about news regarding player injuries leaking out. He said Wednesday that he was glad to have an open date this week because, had Maryland been scheduled to play, he might have had a difficult time fielding a team.
Aug. 22, 2003: Coach Ralph Friedgen is clearly concerned that injuries limited the summer session, curtailing full contact drills that included one scrimmage. "We're having a tough time pushing through it, more so than any year I've been here," said the third-year coach.
Aug. 13, 2003: Friedgen said his injured players will watch from the stands. "The way we're going, we'll probably fill out the rest of the 3,000 people for a sellout from my own team," he said, jokingly.
Dunno, maybe the joints in College Park are especially short-lived. Heh. But seriously, as far as I know, the Terrapins have always had at least 22 players come game-time, and I'm guessing that despite the amazing injury devil they'll find a way to manage against Villanova and Florida International.
By Dan Steinberg | August 27, 2007; 9:09 AM ET
Categories: College Football
Save & Share:
Previous: Another Vacation? Seriously?
Next: The Oddsmakers' Top 25 College Football Poll
Posted by: Unsilent Majority | August 27, 2007 9:29 AM | Report abuse
Posted by: SSFSCoWA | August 27, 2007 1:40 PM | Report abuse
Posted by: WGDC- | August 28, 2007 1:57 AM | Report abuse
The comments to this entry are closed.