C.P.'s Mom

I knew Clinton Portis's mom, Rhonnel Hearn, is famous for cooking for his teammates, past and present. I knew that she was something of a team mom, that her son's teammates call her "Mama P" or "Mama Portis." But I wanted to know, while in the House of McNabb, why Clinton Portis's mom does not have an endorsement deal with Chunky Soup.
"They never approached me," she told me last night, shortly before kickoff. "But I make my soup handmade. I'll put them out of business."
Take that Chunky! C.P.'s mom just swagged you!
Anyhow, she confirmed that she is indeed the team mom, and that she does indeed cook for many of the guys on the night before home games, including but not limited to Rock Cartwright, Ladell Betts, Santana Moss, Sean Taylor, Chris Samuels, Cornelius Griffin, Phillip Daniels, and so on--"whoever make it to the dish," as ehe put it.
"Four or five big old aluminum pans" a week, she told me. "Sometimes it feels like most of the offense and part of the defense."
The menu?
Included but not limited to fried fish, chicken wings, french fries, potato salad, red beans and rice and pork chops. Oh yeah, and turkey legs.
"We're known for our turkey legs," she told me. "The same kind of turkey legs they sell at Disney World, the smoked turkey legs? I make 'em even better."
Take that Disney World! C.P.'s mom just swagged you!
The obvious question, I suppose, is why Portis's mom would be sitting right out in the open at Lincoln Financial after that unpleasantness between her and an Eagles fan a few years ago. For one thing, there was plentiful security last night, and her son didn't want her to be intimidated.

"He said if I should stop coming to the game, let the Lord be the one to stop me coming, don't let the fans stop me," she said. "They got us surrounded by a lot of protection."
But not coming wasn't an option, not really. She's always been at Clinton's games, since the high school days, when he would quiz her on various plays to make sure she had seen everything. Eventually, she took to bringing a large bell with her to the games, so that she could clang it as soon as she climbed out of her car, as a signal to Clinton.
"Let him know: 'Come to mama baby, I'm here,' " she explained.
(Interruption: I asked Hearn about the reports that Clinton had given away his entire wardrobe in the offseason; she confirmed this was the case. She said he emptied about 15 closets worth of clothes and shoes, much of it still with the tags on, and that 20 people--friends, cousins, nephews--each left the giveaway with seven to 10 large garbage bags filled with merchandise. But, as reported, he's already more than replenished his supply.
"I told him, 'You accumulated more clothes than you gave away,' " she said. "I am serious.")
Anyhow, she thinks she missed two of Clinton's games at Miami, and none since he's been in the NFL. She could, of course, come to the games and sit away from the field and away from the masses, up in a well-appointed box, but that doesn't appeal to her. Too sterile. Too many distractions. Too many people looking to drink and eat and watch the game on TV instead of throwing themselves into the action.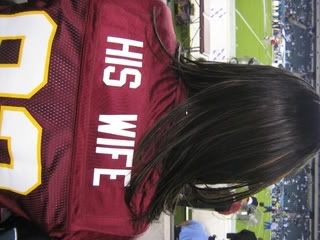 "We sat in the box our first year in Washington; we didn't like the box," she told me. "You can't get into the game, you can't interact with the fans. The box is if you really want to go party. The box is just like being at home, on your own."
Plus, she needs to be able to have easy access to the field. She doesn't tailgate, although she once stayed in the Lambeau Field lots until 3 a.m. to hang out with Packers fans, whom she called the friendliest in the NFL. But she likes to get down by the tunnels to greet her son and his teammates.
"Give them little hugs and kisses," she said. "I tell you, I be everyone's mom, and they're looking for me. I'm everybody's mom away from home. I don't take the place of their real mom, but I'm a good fill-in."
(Also, you're going to want to see this new Chris Cooley shirt, from 289 design.)
By Dan Steinberg | September 18, 2007; 3:44 PM ET
Categories: Redskins
Save & Share:
Previous: Sean Taylor's Hair
Next: Vegas NFL Power Rankings (Luv Skins)
The comments to this entry are closed.