More Eagles Madness

The alcohol content is definitely rising. This is a long day for these folks--some are now 10 hours in. I've now seen at least six Redskins fans, all of whom seem a bit disappointed by the lack of their peers. The consensus is that maybe Redskins fans are coming later, or maybe they're scared to publicly display their allegiance. Two of the six I saw were in civilian clothing.
Anyhow, my favorite fans thus far are definitely Jeff Kolsky and Denise Harrar. They are, um, noticeable. Kolsky has a little figurine around his neck representing the opposing quarterback each week, with a spike of sort through his heart. This week it's a Jason Campbell. The figurine's face is white, but the uniform gets the idea across. Plus there's a replica human heart on Kolsky's arm. And chains around his neck. And some sort of bloody mask on his face. He gave me a serious, extended analysis of tonight's strategy. I found it hard to take this, coming from behind the bloody face. I tried to understand why he was dressed thus.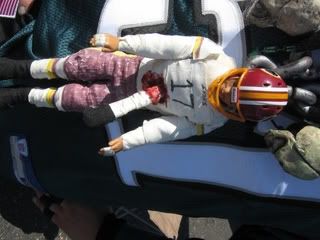 "This is how I feel I gotta look, because everybody's got their own look when they come to an Eagles game," he said. "This is how I feel. This is what happens when I wake up and I know it's football day. You just can't concentrate on anything else; you have trouble sleeping, you have trouble eating, you just come to the game....
"I have no choice, I kind of feel like this is what I have to do. I come down here with just a jersey, I don't feel right, I almost feel like I'm kind of naked. I put this on, I feel like this is how I'm supposed to be. This is what I do. I have no choice. I love this city, I love these fans. It's something that helps get you through. You work a 70-hour work week, it means nothing, because you come here, it's all worth it. That's how we do it in this city."
Wow, I said. That was heavy. I asked Denise what her excuse was. "I just like to have a good time and watch the football," she said. A bit less metaphysical, but it gets the job done, I guess.
My second favorite fan thus far was young Lito Thomas, with the green mohawk. Yeah, Lito. Yeah, after Lito Sheppard. Proud father Mike Thomas--he with the Brian Dawkins tattoo on his right arm--has another child on the way. Not sure on the gender, but if it's a boy, the name might be Dawk. Or maybe Reno. Young Lito proudly shouted out "Redskins Suck" for me.
Honorable mention awards go to, among others, The Official Drinking Team of the Philadelphia Eagles.
They have a bus. They have membership forms, that require you to list your favorite beer and your girlfriend's phone number. They like to dial the numbers at 3 in the morning after the game. I asked whether there were minimum drinking standards required of members.
"You just got to be pretty torn up to become a member I guess," CEO Tommy Engel told me. "You can drink 2, 5, 20, 50, whatever."
They're gonna set up a Web site. Believe it or not, no one has yet grabbed The Official Drinking Team ofthe Philadelphia Eagles.com. Anyhow, I asked whether Eagles fans could outdrink Skins fans.
"Oh, definitely," Engel said. "I mean, they're probably drinking milk right now."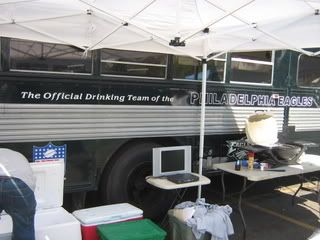 A final honorable mention to Ed Callahan, first because he gave me a cola, and also because he proudly let me into his RV, which had many classy images of, for example, Calvin urinating on the Cowboys logo. Plus, of course, the Star in the toilet. Like everyone else I spoke with today, he said that Eagles-Cowboys means ever so much more than Eagles-Redskins.
"We don't hate Washington and I don't think Washington hates us," said Callahan, whose Web site is, of course, TheEagleMobile.com. "We don't like Washington, but we don't hate them. We just hate the Dallas Cowboys. That's visceral. Little children in Philadelphia, when they learn to speak, the first thing they learn to say is 'Dallas sucks,' ok? That's something ingrained, and passed on from generation to generation."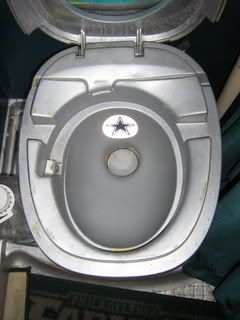 While I type this, I'm listening to Joe Cahn, The Commissioner of Tailgating, do an interview with the Baltimore Sun's Food section. This is at least the fourth interview I've heard him conduct today, and so by now the lines are all familiar; about how this is America's new community social, the last great American neighborhood, the one place where everyone talks with strangers and no one sits in front of a computer and no one's worried about e-mail or fantasy stats or anything other than socializing with the world around them. He's speaking very eloquently about the music, the beanbag games, the food, the whole thing.
"Look out here," he's telling me, post-interview. "Just gaze. Look at the people talking. Where else do you see this? You don't. Talk to someone in the elevator that you don't know, just start talking--they think you're nuts. You approach someone in the street you don't know, we back up, we put up a defense--'What do they want from us?'
"But someone approaches us here, they've got the same color jersey on? They've got to be great individuals. We don't even know them, they might pick our pockets, but they've got to be great individuals, right? When a whole group of people root for the same common cause, what an incredible energy. What I learn out here is that we have more in common than differences in this country; the problem is we're wedged by political, ethnic, racial, religious groups saying one is better than another. We're always in this problem of debates.
"Out here no one's asking what do you do for a living, 'How much are you making?' A Hummer is next to a '72 Oldsmobile. In real life, if someone moves into your neighborhood, right next door, you don't even say hello to them. Here, you say hello. To me, it's a very interesting thing.....We go to a restaurant and order meatloaf; that's comfort food. This is what I call the Comfort Zone. This is that neighborhood that we remember. It's magical."
By Dan Steinberg | September 17, 2007; 4:53 PM ET
Categories: Redskins
Save & Share:
Previous: ESPN.com's Tailgate Reporter
Next: Sean Taylor's Hair
The comments to this entry are closed.