On Hating Dallas

My fear is that this rampant Dallas hatred ultimately demeans the hater more than the hatee. Two teams are set to play each other on Monday Night Football, and what should be a joyous anticipation of large men bashing into each other instead is subsumed by the idea of bashing into large men wearing different colors. Every Eagles fan I've talked with has insisted that, as much as they'd like to win tonight, that means nothing next to a victory over Dallas.
I asked Brain Garber what Eagles fans think about the Redskins; "we don't think about the Redskins," he countered, variations of which I've heard all over these asphalt fiefdoms.
"Who cares?" agreed Chris Einsla, who was wearing, of all things, a Todd Pinkston jersey. ("Skinny gys got to stick together," he said, choosing to ignore the fact that Pinkston was more recently a Redskin than an Eagle.)
"No no, it's not that," suggested Mike Wing, when I asked if he agreed. "We don't like the Redskins, we just hate the Cowboys."
For the ultimate expression of this hatred, meet Mike Ross, whose claim to fame is a large blow-up doll that, once a year, at least, wears a T.O. jersey. The rest of the doll, sadly, can not be described on a family blog. Nor can various acts that various fans--including one mother accompanied by her two daughters--have engaged in with this blow-up doll at various times.
Today, on a day the nation will focus on Philly and its fans, the doll sat, deflated, in Mike's trailer. I asked why he didn't have a Redskins jersey with which to outfit this doll; the thought never seemed to have occurred to him.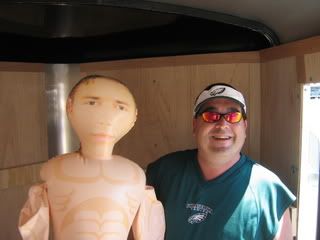 My problem with all of this is, if you're a Cowboys fan, you'd like nothing more than for every fan of every team to hate you and yours. That places you at the center of the football universe, with the various burgundy and green bits of rock orbiting your largeness. If you actually harbor a dislike of this franchise, why grant them that honor, that privilege, that central role in your annual gridiron narrative? Why plaster the sticker on your green bus? Why put your children on the Internet chanting that refrain? Why create Dallas Sucks bibs and onesies? Why start a Web site, DallasSucks.com, where all the orbiting haters can unite in a still petty mass of intergalactic detritus?
Hate the Eagles, Redskins fans. Hate the Redskins, Eagles fans. Only by doing so will you lose your demeaning subservience to that which you claim to most loathe.
(To get you started, check out this post from My Brain Says Rage, written by a Redskins fan who really, really hates the Eagles, often in unprintable language. To wit:
It's almost sad watching Eagle fans, because they want to win SOOOOOO badly, but it's never going to happen, because the fans create so much bad karma that God ultimately hates them and makes them lose. Sometimes they just suck (see Kotite, Rich), while others they are really good and get really close, but [bleep] it up in the end (see Reid, Andy; McNabb, Donovan).

Bottom line: they are losers. The whole city is losers. These are the people who [bleeped] after Smarty [Bleeping] Jones lost the Belmont Stakes and failed to win the Triple Crown, because they wanted to hold a victory parade so badly. (If I'm ever cheering a horse, please shoot me on the spot).

And I'm sure this year's Eagles team will be the same. They'll be pretty good, probably make the playoffs, and lose in the end.
That's more like it.
By Dan Steinberg | September 17, 2007; 1:59 PM ET
Categories: Redskins
Save & Share:
Previous: Eagles Fan Performance Art
Next: Things Eagles Fans Like
The comments to this entry are closed.