Redskins Parking Spaces

No, not your parking spaces. The players' spaces. When the team wins, the Offensive, Defensive and Special Teams players of the week get extra special parking spots near the front of the facility, with an extra special little sign and their number painted on the asphalt in extra-special colors.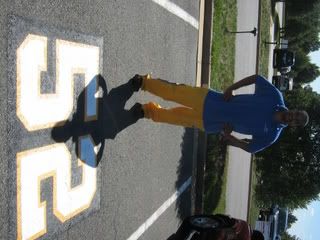 Apparently Wednesday is paint day, at least this week, and so Claude Alami from "Signs By Tomorrow" is out in the lot right this second painting a big 31, 21 and 60 on the ground. The team faxes their players of the week to Claude's boss who tells Claude, who digs out the appropriate numbers and heads for the Park. Claude was a Houston Oilers fan; he's never really recreated that fandom. But he roots for the Redskins every week nowadays.
"You have to," he explained, "so I get more work, more hours, get paid more. I don't have a choice."
His real passion, though, is soccer. He was born in Sierra Leone, played high school ball in England, and tried out for D.C. United about a decade ago. Now if D.C. United would just start awarding prime parking spaces to its players of the week....
By Dan Steinberg | September 19, 2007; 2:32 PM ET
Categories: D.C. United , Redskins
Save & Share:
Previous: Randy Thomas's Shirt
Next: Jason Campbell on McNabb's Comments
Posted by: Anonymous | September 19, 2007 11:21 PM | Report abuse
Posted by: marksman | September 20, 2007 4:55 AM | Report abuse
Posted by: Skins in Sichuan | September 20, 2007 8:15 AM | Report abuse
The comments to this entry are closed.