The Commissioner of Tailgating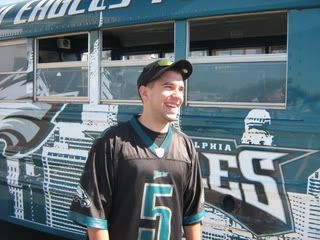 So I just so happened to park directly next to Joe Cahn, "The Commissioner of Tailgating," one of these professional tailgating types who travel the country and boast of visiting 6 million different stadiums and provide free copy for magazines and newspapers. He spoke with much passion about the merits of tailgating, calling it "the last great American neighborhood." I always thought that was Shirlington. Anyhow, he went on about the social and democratic and ethno-cultural-political benefits of the shared public meeting space that tailgating provides, which is fine and all. More importantly, he has power outlets in his RV, which will allow me to keep posting through the end of this glorious afternoon. Make sure you give his Web site lots of clicks as payment.
In comparing regional tailgates, the Commissioner--who, to be fair, is a bit long winded but extremely knowledgeable--noted that D.C. favors pork above all else, although I think it was an extended metaphor about Congressional appropriations. New England, where he was yesterday, was heavy on the chowder and lobsters and steaks. Philly, he said, is all about the peppers. Also the passion. He said not every city would have had the 7 a.m. attendance that Philly had today.
Nor the pineapples, I'm guessing. Nearby were Ron and Wendy Carman, who had planned on cooking a whole ham. Then they got less ambitious, and went with hamburgers. But they already had a pineapple, which they're now using as a paperweight and pretending to toss around like a football.

"It's for Reno Mahe--is that racial profiling?" Ron asked. Nah, not at all. They also made a SpongeBob joke, which I didn't get. "Do you live that sheltered a life?" Ron asked. Guess so. Regardless, they were here around 8:30; when I asked why, Ron pointed to his sizable mid-section and explained that he requires lots of time to eat.
Oh, and those beer pong kids? They're really playing water pong. They don't trust the parking lot surface to interact with their beverages. They say it's known for discarded needles and stale urine.
"Usually better outside of your system than in," Imran Chowdhury said. Fair point, I suppose, although water pong just doesn't have the same ring to it. I asked them about the Skins.
"Joe Gibbs was cool in, like, 1987," T.J Gejewski said.
As for the school buses, I got one estimate that at least 100 old school buses have been tricked out in Eagles regalia. Curt Smith, who owns one such bus, was making pig; "we always cook our opponents," he told me. "We're having pig today for the Hogs." I asked what they eat when they play the Giants; he said they have steak. "Meat," he explained.
I was confused, so I moved on to Colin Ashmore, who also had a tricked-out bus, which cost him about $3,600. He said he hates every team besides the Eagles, but that he hates the Cowboys "extra more." Also the Giants. The Skins don't really arouse much passion in him either way. Maybe if they start beating the Eagles, he suggested, things might change. Crushing. I asked when people would start getting drunk.
"Um, as soon as I stop talking to you I plan on making some Jager bombs," he said, which was a promising sign.
By Dan Steinberg | September 17, 2007; 12:21 PM ET
Categories: Redskins
Save & Share:
Previous: Live From Philly: The RV's Are Out
Next: Eagles Fan Performance Art
The comments to this entry are closed.