What Eagles Fans Looked Like
These were taken before the game. Not sure what they looked like after. I can tell you, however, that the post-game parking lot smelled very much like the decay of your typical rotted-out beer-soaked crumbling college off-campus apartment, minus such luxuries as a Magic Tree air freshener.That was an awful lot of alcohol to have been consumed in vain.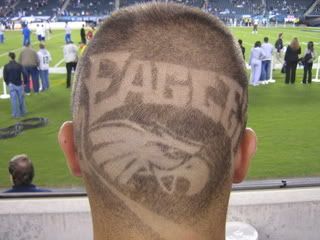 By Dan Steinberg | September 18, 2007; 10:49 AM ET
Categories: Redskins
Save & Share:
Previous: Eagles Fans Deal With Defeat
Next: Gil's Shoes and the Bandwagon
The comments to this entry are closed.