Caps Use the Right Bin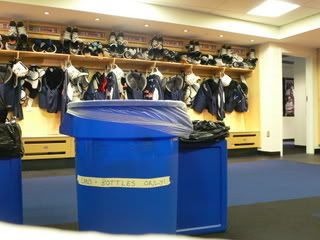 The big blue recycling bin in the middle of the Caps' dressing room has a piece of masking tape across its mid-section. "CANS + BOTTLES ONLY!" it reads. Matt Bradley wrote that.
"You know, some of the Russians and Swedes have trouble understanding English," joked the winger and team recycling captain. " So just to make it clear...."
(Yes, the Caps web site and the Washington Times have already covered this story, but if Brandon Lloyd's speculations about the sexual habits of retired NFL quarterbacks is worth at least three Internet stories, I believe a hockey player-turned-recycling guru certainly is.)
Anyhow, Bradley is quick to say that he's not an environmental "extremist," but he's seen the movies and read the books and heard the arguments from his fiancee, who helped convince him to buy a Lexus hybrid in the offseason and who is thinking about trading in her current car for a Prius. Bradley, a 28-year-old from Ontario, thought about bringing recycling to the Caps last year, but they were in temporary locker rooms at their new practice facility and things were a bit disorganized. So this fall, when they moved into their full-time digs and there was still no place for all those empty Gatorade bottles, Bradley took action, buying the big blue bins online and bringing them into the dressing room. The response?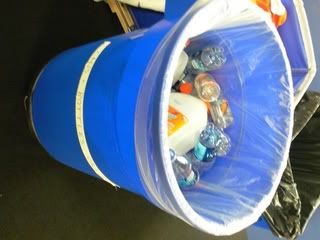 "It took a couple days for guys to get used to it," he said. "I mean, it does kind of look just like a garbage can."
To make things more clear, he tried to find those lids with the little round holes, but apparently his model was discontinued, so he plans on rigging something up himself to more clearly identify which containers are for recycling. Why, you're wondering, is an NHL player worrying about in which bin to deposit his Dasani?
"Any little thing that I can do to help out is something positive," he said today, as teammates dutifully recycled their bottles in front of us. "There's a lot of easy things we can do that aren't a big deal, that everyone can do. You don't have to change anything in your lifestyle, really."
Bradley was told that the Ballston Common Mall, on top of which the team's practice facility sits, does not pick up recycling, so he planned on piling the plastic bags filled with used bottles into his wife's fiancee's car today and running them across the street to a public recycling drop-off, but some team employees had already taken care of that. He said his teammates have given him grief about his campaign, and they do seem to enjoy Bradley's new image--"He's already got a hydrogen car ready to go I think," Brent Johnson said. But everyone I talked to endorsed the campaign, and I only saw one bottle placed in an incorrect bin.
"It takes a lot of convincing, and he takes a lot of abuse over it, but we all understand where he's coming from," Brooks Laich said. "Every day you see that thing piled full of bottles. It's amazing over the course of a year how many bottles we just toss away."
"I agree with him," David Steckel said. "I'm from Wisconsin: we recycle up there."
"Hockey's just our sport that we make a living on for our families, but we've got to breathe this air for the next 40, 50 years after hockey," Johnson said. "Some guys are seriously catching on with it."
The team even decided to reimburse Bradley for the recycling bins. And while the winger said he doesn't plan to throw himself into social activism, "if someone were to use my name to help the recycling cause, then fine," he said.
In fact, my only problem with the whole recycling campaign was I didn't see any newspaper recycling bins. I mean, these guys do read the newspaper, right?
"We try not to," Johnson said.
By Dan Steinberg | October 17, 2007; 4:47 PM ET
Categories: Caps
Save & Share:
Previous: Willis Is Trash
Next: Preseason Basketball Conference Predictions
The comments to this entry are closed.