Derrick Frost's Socks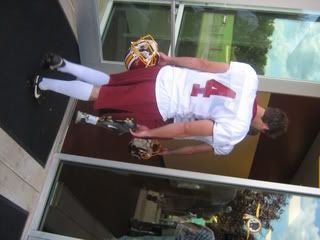 All training camp, I wondered why Derrick Frost wears knee-high socks while he's practicing his punting. Yesterday, he was wearing knee high socks around the locker room. He said I was the first media person who had ever asked. And the answer?
"So I don't have to wear sun screen," he said.
Tremendous, no? It's not an homage to Lawrence Moten. It's not because he used to play volleyball. It's not because the socks give strengths to his legs. It's because he doesn't want a tan, or, "what happens is the coloration," as he put it.
He also wears long sleeves when he punts outside during the summer, for that same reason.
"I don't know, I figure if I play for 20 years--and maybe I won't--but if I do, and I'm out there in the summertime when I'm kicking, and I'm out there in training camp, more than the average person, I just don't want to get cancer or something," he told me. "You never know. It's kind of weird, but if you look at people who do gardening or cutting grass, they're usually in long pants and long shirts. I just figure they know what they're doing."
By Dan Steinberg | October 4, 2007; 12:59 PM ET
Categories: College Football
Save & Share:
Previous: Nobody at Maryland Graduates
Next: Wizards vs. Hollinger
Posted by: onside kick | October 4, 2007 2:09 PM | Report abuse
Posted by: Josh | October 4, 2007 3:00 PM | Report abuse
Posted by: ScottVanPeltStyle.com | October 4, 2007 3:09 PM | Report abuse
The comments to this entry are closed.