DeShawn's New Tattoo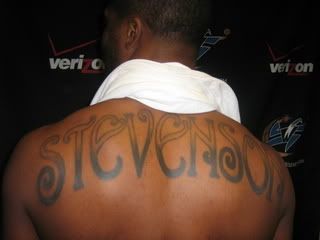 A few weeks back, after Vince Young appeared shirtless on 60 Minutes, it became a popular pastime to declare the quarterback's back tattoo--which reads "V. YOUNG"--"The Worst Tattoo EVER." Then bloggers took this and ran with it, declaring Stephen Jackson's ink honoring prayer and guns and/or a Kiwi's presumptuous celebration of New Zealand's 2011 Rugby World Cup triumph the worst tattoos ever.
But let's go back to the original Vince Young art, and state, for the record, that this is officially a trend. Witness DeShawn Stevenson's offseason addition.
"It's not finished yet," he told me this afternoon. "I'm doing my whole back as a jersey....It's gonna be real nice."
Yes, that means that in the near future--possibly before the season--the script "Stevenson" will be joined by a large number '2.' Also, possibly by heaven's pearly gates, although that wouldn't really fit with the uniform motif. Anyhow, I told DeShawn about Vince Young's similar back stylings.
"For real?" he said. "See, that's the new hot thing."
I told him Internet types were skeptical.
"I think it's hot," he disagreed.
(Interruption: Illustrious blogs such as With Leather, The Big Lead and Deadspin have all made posts about a message concerning Lindsay Lohan that appeared on Stevenson's MySpace page today.
"It's not me," he said of the message. "I mean, it's my page, but it's not me saying that." So who wrote that? "I don't know," he said. "We've got to find out. I've got like six [MySpace] pages. You know I'm famous now.")
Point being, I figured I should see whether the back tattoos were spreading around the Wizards locker room as fast as Internet rumors about video game cheating. So, Wizards teammates, are you getting your name tattooed across the top of your backs?
"Nah, I know my last name," Brendan Haywood said.
"I ain't gonna do all that," Dominic McGuire said. "I don't like needles."
"Everybody's got his different opinion and different decision, right?" Oleksiy Pecherov said. "I think it's ok for him. He think it's good, he made his decision....I'm not ready yet for tattoo. I'm, like, from overseas and I'm not sure about this, so I'm cool like I am right now."
Plus, you know how much Cyrillic script costs writ large across the back? Anyhow, teammates seemed ok with the art--"they spelled it right," Caron Butler pointed out; "he's already got endorsements so he's good," McGuire added.
Tatooing his name took the better part of a day--"You know me, I cry through tattoos, I stopped like six or seven times," Stevenson said--and he thinks the number 2 will require two days. Stevenson said he was actually inspired by Gilbert Arenas, who had considerable work done on his back on the offseason. So I asked Gilbert to assess DeShawn's new addition.
"I'm not talking about DeShawn, Deshawn has an attitude right now," Gilbert said, but finally he relented and attempted to explain why one would want one's name on one's back.
"That's the name you represent," he told me. "When you're done in the NBA it's still your uniform: this is who you are, this is your time and your place...At the end of the day, when you get tattoos, [they're ok] as long as they mean something. That's why I don't do my arms and stuff, because it's not for people to see. This is what I feel, that has to do with myself."
Or as Haywood put it, "If it works for him, it works for me. I don't really care, it's not my body."
By Dan Steinberg | October 18, 2007; 4:41 PM ET
Categories: Wizards
Save & Share:
Previous: Steve Spurrier Dress-Up Doll
Next: Skins-Cardinals Bonus Quotes
The comments to this entry are closed.