Gil's Cartoon Series: Gazo The Pranksta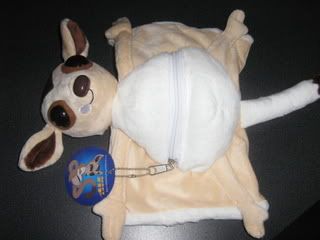 Last year on media day, Gilbert Arenas calmly introduced the world to his high-altitude tent. Today, one year and seven million blog posts later, Gilbert was handing out stuffed animals of a bat-like creature (with a pouch) known as "Agent Zip," a sidekick from his upcoming animated series about his high school years, which will be called "Gazo The Pranksta," after his own character, named Gazo.
Let us know praise the dawning of Wizards season.
Ok, anyhow, the series's Web site is up, at GazoThePranksta.com. But there's no content yet. The first episode was supposed to launch this week, but Gilbert watched it and decided it wasn't ready.
"Because I was watching 'Family Guy,' and then I watched mine, and it wasn't as clever," he explained. "It was funny, but it wasn't as clever, so I had to pull out."
When word first leaked that Gilbert was doing a cartoon series, you might remember, I speculated that it might resemble Dennis the Menace. But this show will focus on an older crowd, casting its animated lens on high school and the various escapades contained therein.
"I mean, they're pranksters," Gilbert said of the show's heroes. "It's a prankster. Don't get me wrong, it's a Dennis the Menace, but it's a group, it's kids, it's what goes on in high school. So if you can imagine anything that went [on] in high school, I already thought about it, and it's going to be in there."
His inspirations are "South Park," "Family Guy" "The Simpsons" and "Superbad," he's recruiting the staff from UCLA and USC ("some young ambitious writers that has a lot of humor") and his heroes are decidedly not the cool kids. Think Debate Team. Think punk rockers. Think marching band.
"I've just got random kids," he said. "It's not the superstars of the League, I mean, of the school. You know, like, when you go to school, it's the average group. It's not the "In" class; it's the "Out." But at the end of the class, there's more Outs than there are Ins, so while the Ins think they're running the school, it's really the Outs."
He'll draw you a flow chart, if you like. Not to point too fine a point on this, but what other all-star athlete in the world would want to not only make a cartoon series about his own life in high school, but would decide to focus said series on the outcasts and rejects of high school? Only Agent Zero. Which is why it's only fitting that the stuffed animal we received today-inspired by the evil monkey on "Family Guy"--was named "Agent Zip." No one understood quite how this bat-like thing with a stomach pouch containing gummi bears fit into the high school theme, and no one quite understood exactly what it was.
"He's a character, but not really a character, and he was the cutest thing I could give you guys," Gil said. "He's a suger glider. It's an actual sugar glider, from...some different country. They glide. Swear to God."
(According to Gliderpedia (really), "The sugar glider (Petaurus breviceps) is a small arboreal marsupial that is found in the forests of Australia, as well as in Tasmania, New Guinea, and the neighboring islands of Indonesia. This little creature is a member of the same order that includes kangaroos, opossums, wombats and Tasmanian devils!)
"Oh God," said Andrea Butler, wife of Caron and mother of Mia, when she saw Agent Zip. "Mia would have a ball with that thing. She loves funny-looking animals."
"What is that" DeShawn Stevenson asked. "Gonzo? Agent Zip? I think this is ugly, that's what I think."
I asked Gil whether the series would have a young DeShawn; "Oh, there's gonna be a cocky basketball player," he said, but allowed that it wouldn't specifically be DeShawn.
"I don't want to be in there," Stevenson insisted. "He's got too many jokes, he'll probably say something crazy."
Anyhow, there's no distribution deal yet. It's going to start as an Internet-only series. It will be "interactive," with real phone numbers and real Web sites that viewers can then visit and interact with. The voices will be done by "kids around the world," Gilbert said, adding that the cartoon will help give him a boost for his post-hoops career. And while he won't give away any plot hints, he has no doubt that it will be a hit.
"You know, with my humor and the way I think and the things that go into high school that's not told, I can tell 'em," he said. "I mean, with my creativity...."
He didn't really finish that sentence. Didn't really have to, either.
POSTSCRIPT: There is a little paper football inside Agent Zip's pouch. Here's what it says, when you unfold it:
FOR IMMEDIATE RELEASE
October 1, 2007
Hypocrites, fools and the oversensitive beware.
Embrace your differences. Who said life was fair?
Conforming for the inside. What are you doing?
Watching from the outside. Creativity brewing.
Don't take yourself so seriously.
Things aren't always as they appear.
It's cool to be different. Especially here.
We're Generation Zero.
By Dan Steinberg | October 1, 2007; 12:14 PM ET
Categories: Wizards
Save & Share:
Previous: The DTC, Live, in Video
Next: Brendan Haywood Speaks
Posted by: TheHype | October 1, 2007 12:26 PM | Report abuse
Posted by: the cheat | October 1, 2007 12:39 PM | Report abuse
Posted by: E-Rah | October 1, 2007 12:48 PM | Report abuse
Posted by: Lindemann | October 1, 2007 12:51 PM | Report abuse
Posted by: Unsilent Majority | October 1, 2007 1:23 PM | Report abuse
Posted by: Anonymous | October 1, 2007 1:46 PM | Report abuse
Posted by: DD | October 1, 2007 2:18 PM | Report abuse
Posted by: ScottVanPeltStyle.com | October 1, 2007 2:50 PM | Report abuse
Posted by: Red Sox Monster | October 1, 2007 8:28 PM | Report abuse
Posted by: B.A. | October 1, 2007 10:30 PM | Report abuse
Posted by: WizardsDotCom | October 1, 2007 10:45 PM | Report abuse
Posted by: WGDC- | October 2, 2007 3:15 AM | Report abuse
Posted by: lopieur | November 27, 2007 10:00 AM | Report abuse
The comments to this entry are closed.