Look at Ovechkin's Tooth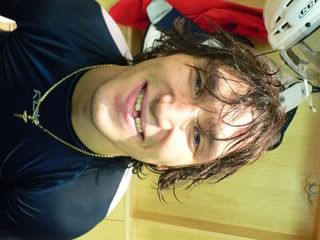 Or rather, his lack of a tooth. This photo taken from practice today. You'll recall that Ovechkin lost a front tooth against the Thrashers a couple weeks ago. Here's some feedback at the time, according to the AP:
[Ovechkin] seemed to delight in the empty space between his teeth Saturday, sticking his tongue in there and smiling widely whenever he noticed his mug up on the new high-definition video screens above the ice. He resembled a little kid who loses his first incisor and can't wait to see what the Tooth Fairy leaves under the pillow.

"He's likely like about 10-to-15,000 other professional hockey players that are missing a tooth," Capitals coach Glen Hanlon said. "I don't think it's much of a big deal. If you can't play with knocking your teeth out, you better go find another sport."
And here's what Ovechkin had to say about the new look today: "It makes me look hot. Girls like it."
Really?
"Sure," he said. "Like a warrior."
He said he'd get the gap fixed in about two weeks. I asked whether he still has the missing tooth.
"No," he said. "I forget it in Atlanta."
By Dan Steinberg | October 17, 2007; 12:54 PM ET
Categories: Caps
Save & Share:
Previous: New Media War: Junkies vs. Mottrams
Next: New Blogger: Donald Brashear?
The comments to this entry are closed.