Portis's and Campbell's Shoes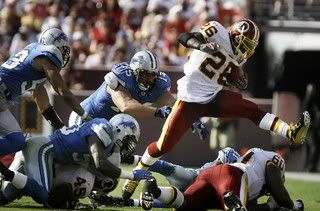 The gold pants and gold helmets didn't fare so well against the Giants. Gold, I'm sure you'll agree, is a color best suited for accessorizing rather than carrying an outfit. With the properly substantive backdrop, gold can breathe life into what otherwise might appear staid and stolid.
Which is why I'm hereby claiming that the Redskins' 34-point exhalation on Sunday was at least partially due to the gold boots on the feet of Jason Campbell and Clinton Portis, the offense's two most dynamic players. Campbell had actually requested gold-tinged Nike Speed TD boots earlier in the season, but a mix-up led to a delivery of Georgia Tech gold rathern than Redskins gold. Sunday was thus his first NFL game with gold on his feet. He picked apart the Lions D while setting a a career high for completions, and all agreed that it was his best showing as a pro.
"Hey, it might be the shoes," he allowed, before changing his mind. "Nah, it's the Man above."
But Portis's shoes--the Nike Air Zoom Blade Pro TD model--were more striking, brighter and bolder, and yes, he even had gold laces. The gold said flash. The gold said confidence. The gold said the Giants game was antebyeluvian, Before the Bye, and would remain so. The gold was everything that Jon Kitna will never be. Where's Robin Givhan to help explain?
"Oh, you like them?" Portis said, when I inquired. "I know, they were funky. I just needed to come out, and they lifted up my attitude today. I've done did every color. This is my first time wearing gold."
I figured noted gold enthusiast Fred Smoot would enthuse, but he seemed remarkably blase about Portis's passion.
"A couple of us got gold," Smoot said, digging through his bag. "I got gold right here. I got gold, I got maroon, I got all kinds."
I told Portis that Smoot seemed unimpressed.
"I don't even like Smoot, I wish he would go back to Minnesota," Portis cracked.
But this isn't about fashion jealousy, this is about Redskins unity. So I wanted to know what other teammates thought.
"I didn't notice them," Phillip Daniels said.
"No, I didn't [notice]," Pete Kendall said.
"Did he have the silver bottoms?" Al Saunders wondered. "I didn't notice. I don't even look at their shoes. I could give a damn what he wears. He can go out barefoot it he wants."
I asked these men whether they would wear gold themselves, telling them I needed some pithy one-liners.
"What's a guy like you doing in a locker room like this?" Kendall offered. "No? That's not the one you're looking for?"
"I'm up in the box; I could wear slippers and no one would care," Saunders said.
"We're big guys, and those shoes won't support us," Daniels said. "They're too light. We've got to wear the big shoes, and they don't make the big shoes in those colors....The shoes don't make the player, so it don't matter, I guess."
Hogwash. Of course the shoes make the player. So what's next? Campbell said he's "trying to maintain it," which I assume means more gold is in his future. And Portis? He declined to comment.
"If you knew my next move, why should I do it, you know?" he asked. "I've got to stay sweet, I've got to keep you on your feet."
Just so long as you keep gold on yours.
By Dan Steinberg | October 8, 2007; 1:51 PM ET
Categories: Redskins
Save & Share:
Previous: Redskins Droll Injury Report
Next: DeShawn's MySpace and Kwame's Mug
The comments to this entry are closed.