Redskins Dance Off

"How you doing?" Redskins linebacker Matt Sinclair said to the volunteers as he entered YMCA Alexandria this afternoon. "I look fat," he added, apologetically.
This was ironic, seeing as how the Redskins Charitable Foundation was partnering with the United Way and YMCA of Metropolitan Washington to create an interactive gym for kids, meant to combat "the growing epidemic of childhood obesity." This is all part of the YMCA's Physical, Healthy and Driven program. The ribbon on the new facility was cut today, and several Redskins were there to perform yoga feats, make smoothies, lead gym drills and play interactive cardiovascular video games. It was like walking into one of those United Way TV ads.
Sinclair, who's on the practice squad, didn't have a loose-fitting appearance jersey and instead wore a form-fitting game jersey, but he thought it made him look fat.
"Well, he IS fat," said defensive back Leigh Torrence, which really wasn't fair.
"You know, some people look good in stripes, some people don't," explained defensive end Chris Wilson, who was also in his game jersey. "Some people look good in white, some people don't. Sinclair is not highlighting his good features."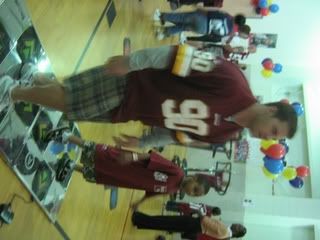 But enough of the jerseys; "let us go, onward and upward!" Sinclair announced as the players headed toward the interactive gym for the ribbon cutting. There were interactive snowboard courses and ATV races and soccer games and, of course, Dance Dance Revolution. And really, you haven't learned to love the Redskins until you've watched two defensive linemen--Wilson and Alex Buzbee--virtually dance to the strains of "Girls Just Want to Have Fun."
If you're curious, Buzbee resembled some sort of lunging land mammal on the virtual dance floor. I asked him to describe his style.
"Awful, in a word," he said.
"No disrespect to Buz, Buz can probably bust a few moves, but it was no contest," said Wilson, who later began talking trash to a grade school girl about who was the better yoga practitioner. (They did "The Frog" and "The Parachute," among other moves.)
Torrence--who spoke for the group of players before the ribbon-cutting--said that in any case, he was the best dancer of the four, and I would have to agree.
"Oh man, hands down," he said. "I'm from Atlanta, I've got my moves all together. I don't think they want to touch me. I saw Matt Sinclair--he looked pretty horrible, as you would expect."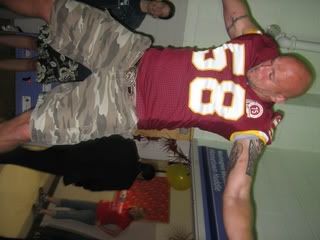 But the linebacker, tattoos shooting out of his tight jersey, clearly led the group in enthusiasm. He virtual snowboarded; "back in the day I had an Alien Workshop skateboard, I used to rock the Airwalks," he said. He led some youths in linebacker lateral motion drills. He played in a game called "Men in a Lifeboat," which required him to throw himself onto a gym floor and pretend to mop the deck. He leaped in the air for a cheerleading drill. At least twice, he claimed to have pulled muscles, but he kept putting his body on the line to help fight childhood obesity.
Sadly, he hardly danced; "I'll do all right if they break out the country line dancing, other than that, not too hot," he said.
Luckily, there were some Redskins cheerleaders there to critique all this movement.
"They need to work on hip action a little more," said cheerleader Heather T., who watched the dance-off. "They're not as good as us, definitely not. But I can't play football."
By Dan Steinberg | October 9, 2007; 7:19 PM ET
Categories: Redskins
Save & Share:
Previous: This Week's Vegas Oddsmakers' Top 25/30
Next: Vegas's NFL Power Rankings
Posted by: littles | October 9, 2007 7:59 PM | Report abuse
Posted by: ScottVanPeltStyle.com | October 10, 2007 10:33 AM | Report abuse
Posted by: White Prez | October 10, 2007 10:39 AM | Report abuse
Posted by: Failure | October 10, 2007 10:41 AM | Report abuse
The comments to this entry are closed.