Shaved Curly R's and Skins Pumpkin Heads

The guy with the pumpkin helmet head must have been seen all over FedEx Field yesterday, sitting as he was directly behind one end zone, bright orange noggin bearing Washington's famed Curly R logo. Naturally, I plowed my way through the well-lubricated masses at halftime to find Curly R Pumpkin Helmet Head, real name Tony Tice, a 27-year-old from Gainesville, Va. whose gourd-like dome was, tragically, as misleading as Washington's 4-2 record. 'Twas a fake, you see.
"Pumpkins are heavy," said Tice, who, to his credit, actually attempted to wear a real pumpkin on his head before making such discoveries. "The inside of a pumpkin smells a little funny and sticks to your head."
Luckily, his sister-in-law found a large foam pumpkin at a store for $6, which Tice expertly crafted into a old school helmet and then "carved" with Curly R logos on both sides, one regular and one reversed, with the reversed R constituting what he called "my special touch."
Why a pumpkin?
"It's the end of October, you know, trying to be original," Tice said. "I was with my sister and nephew and we were all carving pumpkins. I said, 'might as well make a pumpkin head and carve an R in it.' " Precisely. Columbus said "might as well try heading West," Franklin said "might as well rig up this kite," and Redskins fans say "might as well make a pumpkin head and carve an R in it."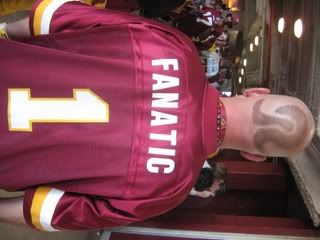 [I had trouble finding pumpkin head since he left his seat during halftime, but Mike Sellers's girlfriend helped me locate him. By the way, she would like to encourage you, the readers, to begin voting Mike Sellers into the Pro Bowl. When Mike Sellers's girlfriend tells you to do something, I believe you should probably do that something, immediately.]
Anyhow, Curly R Pumpkin Helmet Head Man wasn't even the most impressively Curly R-on-the-head outfitted fan in the zip code yesterday. That honor belongs to 31-year-old Jason James of Mechanicsville, who, as you can see, has a quite large Curly R shaved into the back of his head, where it has resided off and on for about five years. His wife Angela traces the Curly R onto her husband's head at the beginning of the football season, and then uses electric clippers to bring the logo to life.
"Everybody wants to take his picture: the front of them and the back of him," Angela told me.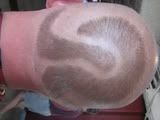 "As the jersey says, I'm a fanatic," explained Jason, whose jersey, true to his word, read "Fanatic." "I'm all about the Redskins."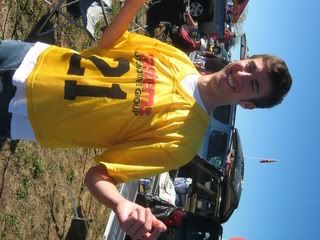 Let's also not forget a contributor to the racy blog Ahern Inquirer, young Kevin, was wearing a homemade Eastern Motors jersey that he reconstructed by ordering a plain yellow practice jersey and then copying the Easterns type face. The back read "The Punisher."
Hopefully this has satisfied all those wailing about a lack of creativity at FedEx yesterday.
By Dan Steinberg | October 22, 2007; 3:14 PM ET
Categories: Redskins
Save & Share:
Previous: Carlos Rogers vs. Neil Rackers
Next: Final Sports Media All-Stars Karaoke Alert
Posted by: Kev | October 22, 2007 4:46 PM | Report abuse
Posted by: onside kick | October 22, 2007 5:17 PM | Report abuse
Posted by: ScottVanPeltStyle.com | October 22, 2007 5:20 PM | Report abuse
Posted by: Jamie Mottram | October 22, 2007 5:44 PM | Report abuse
Posted by: hummersport | October 23, 2007 12:24 AM | Report abuse
The comments to this entry are closed.