Wiz Preseason Stylings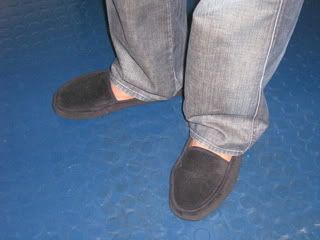 Two days until the Wiz season starts, and the gents are getting excited. "It's like going back to school," Gilbert Arenas was saying today. "You can't sleep that night, you've got all your clothes ready to go. That's just like the first [game]: you want to make sure you've got the best suit going out to the floor."
Some teammates tried out the "it's like Christmas morning" line, but let's stick with the clothes metaphor for now, because the Wiz have been breaking out the sartorial stylings this week. Like rookie Nick Young, walking around the Verizon Center wearing bedroom slippers.
"I've got to relax today," he explained. "People be stepping on my feet."
Or Oleksiy Pecherov, whose injured right ankle has him using crutches. Check that, using stylish Wizards-toned crutches: the left crutch was blue, the right crutch was black. That's the one Pech was offering to bystanders in lieu of handshakes.
"It's fancy," Pecherov acknowledged, gesturing to his arms. "It's special; it's for left, it's for right. You wake up in the night, you can miss. It's blue it's for left, it's black it's for right."
(Also, "I go weightlifting," he promised team president Ernie Grunfeld. "After this month, I'm gonna be 'Hmmmmm' strong. Rebounds, blocked shot, defense, 'Hmmmmm."
When he says "Hmmmmm," you must picture him flexing while on crutches.)
Coach Eddie Jordan was asked whether he's worked on his game-day fashion in preparation for the season opener; "I don't work on it," he said. "I monitor the fact that I can let my pants out every year, maybe get some new jackets to fit me. I try to keep in shape, but I'm losing the battle."
But the most important development is Andray Blatche's expansive mohawk, making him at least the third Wizard to have experimented with that style.
"Oh I love it," said DeShawn Stevenson, who tried a mohawk over the summer.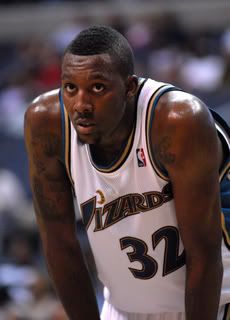 "I started that," Young said. "I'm the creator of the 'fro-hawk. It's not a mohawk, it's a 'fro-hawk."
"You didn't create that," interrupted Young's fellow rookie, roommate and comic partner Dominic McGuire. "He's a biter. He steals people's ideas, that's what he does."
"See, he's a hater," Young said. "Look at the hater."
By the way, believe it or not, Jordan also experimented with that once-hip hair trend several times over the summer. Although, sadly, never for public consumption.
"I had a mohawk, but I didn't leave the bathroom, I just sort of hung out in the bathroom," Jordan told me. "I cut my own hair--sometimes you can probably tell--and when you're doing it you go from the sides to the middle. And you just kind of hang out and say, 'Yeah, look at my mohawk' for about five minutes. But again, I don't leave the bathroom."
Aha, a possible Opening Night, back-to-school look for the coach?
"No way," he said.
By Dan Steinberg | October 29, 2007; 5:10 PM ET
Categories: Wizards
Save & Share:
Previous: Gilbert's Final Thoughts
Next: Attempting to Get Fired
The comments to this entry are closed.