Black Wednesday: B-Lloyd Will Be Missed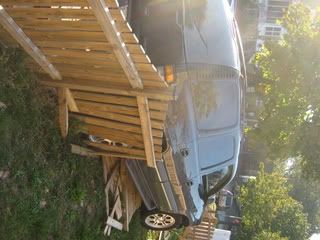 To the right, you can see a picture of my yard. In the dead of night on Saturday, while I slept the sleep of the innocent, the SUV pictured there decided to drive through the fence that used to be pictured there. Shattered it. Ripped it to shreds.
That's what happened to my heart last night. Or to Brandon Lloyd's clavicle. Or to my blog beef with JLC. Something got ripped to shreds, that's for sure. Luckily, no trucks were involved. Although people always said B-Lloyd had great wheels.
The news, you can see, has shattered my writerly equilibrium. I compare this to last April, when Gilbert Arenas's meniscus and my sense of place were torn simultaneously. The Wiz season went to pieces as soon as Gil was gone. Will the same thing happen to the Redskins minus B-Lloyd? What will the Junkies talk about? Who will JLC next stop referring to by his proper name? More questions than answers here.
Let's review B-Lloyd's season highlights now, to make ourselves feel better. So many to choose from. Well, two actually. Third quarter, vs. Lions, it's 2nd and 10. Read the sweetly succinct play-by-play: "short left to 85-B.Lloyd to WAS 40 for 9 yards." That was a season high. First quarter, vs. Patriots, it's 1st and 10, and he equals his season high for receptions: "J.Campbell pass short left to 85-B.Lloyd pushed ob at 50 for 5 yards." He ended up averaging 0.2 catches and 1.6 yards per game. Coulda been worse.
More highlights? I guess you could also include the nine-yard pass he caught that was called back due to penalty, his attempted outing of Troy Aikman, his rant received from George Michael, his new rap releases, his 13-minute locker-room exit, the "European" haircut, and also his journal-writing seminar.
Who will comfort us in this week of woe? This Computer Scientist named Brandon Lloyd? The founder and operator of MilitaryForPaul, also named Brandon Lloyd? The student body president at the Illinois Institute of Technology, also named Brandon Lloyd?
Yesterday, before the injury, Mike Wise jokingly asked B-Lloyd if he was one big catch away from erasing all the misery. B-Lloyd chuckled sagely. "I'm one big catch," he said, "away from having one big catch."
More reaction: "Expect Lloyd to be cut loose some time in 2008 -- and to have a hard time catching on anywhere else." (FanHouse)
"Brandon Lloyd's Washington Redskins career probably came to an end today." (Wash Times)
"TIHS IS AN INCEDRIBLE BUMMER I KNOW BRANDON WAS JUT ABOUT TO BREAK OUT AGAINT DALLAS!!!1!!" (The Curly R)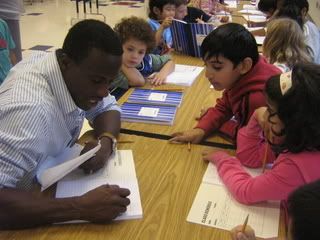 By Dan Steinberg | November 15, 2007; 7:36 AM ET
Categories: Redskins
Save & Share:
Previous: Chief Zee's Big Weekend
Next: God's Crying in Ashburn
The comments to this entry are closed.