Choo-Choo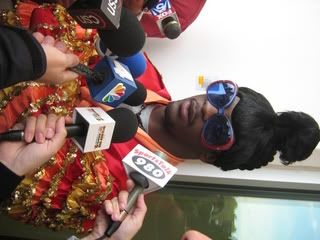 Last week, Rock Cartwright handed out 123 self-designed t-shirts to teammates, coaches, trainers, and so on. At the time, this was considered high comic relief. Desperate for some sort of blog item that didn't involve the word "hard-fought," I came to Ashburn today hoping Rock had unveiled more t-shirt designs.
"Only one for the year," he said. "T-shirts are expensive."
But hey, forget earnest t-shirts, for this was the day Clinton Portis chose to emerge from the training facility with a ruffled shiny red top, oversized orange neck-based accoutrement, saucer-sized lavender sunglasses, East Asian black braided wig and....
[You know, actually, listening to various sports writers argue vociferously about whether this get-up should be classifed as Flamenco, Flamingo, Calypso, Merengue, Toreador, or something else was even more enjoyable than watching a professional football player traipse his way through a third-person, dance-based news conference. As I said yesterday, we're close to the time when our pro sports leagues won't need to involve sport at all.]
Anyhow, more to the point, um, what are we to make of this?
"I'm the dance instructor around here," said the character known as Choo-Choo. "You know, I taught these boys how to dance. They need a little more fun out here, like they need a couple more touchdowns."
No arguing that last point. Choo-Choo claimed to have taught Santana Moss his shimmy, Mike Sellers his flex and Antwaan Randle El his double-armed exultation.
"I'm trying to get that boy Clinton Portis, though," Choo-Choo said. "They say he's smooooth on his feet. I'm trying to teach him....I want to teach him 'The Superman.' "
"He's back," observed Jason Campbell, who was walking by the gathering with a smile. "Haven't seen that in 10 months. I'm just glad to see him back doing that, back to his normal self."
Back at the press gathering, a reporter foolishly asked whether Portis might be able to carry an offense on his back while dressed like an unhinged protein-cramming urban Asian figure skater.
"Hey, I don't know what he can do, I just want him in the end zone," Choo-Choo said. "I want him to have fun. You know, Choo-Choo is all about fun, and that's what I want him to have, is fun."
Give Portis/Choo-Choo credit for this; he understands that the "just have fun" mantra goes over a lot better after 196 yards and a win. And what of his other, past characters?
"I talked to Southeast [Jerome] in heaven, I talked to him the other day," Portis said. "Reverend Gonna Getcha, he's still preaching down there on 15th and Alabama. They all around man, they still alive, they still living."
Later, there were, thankfully, some details about the outfit. The hair, he said, was done by Paris Hilton's person. The neckpiece, he said, was a "Flambé," used to pat himself down and "make sure I ain't sweating no time soon." The top, he said, came from a secret place; "I can't tell you everything man, I work for a living," he said. "I can't tell you where I work, neither." And the sunglasses, I noted, still carried their price tag.
"That lets you know this is expensive," he said. "You see what I'm saying, that let's you know Choo-Choo got money too." The price tag read $9.99.
Teammates seemed....well, amused, perhaps. Or scared, maybe. "Look, he's got a braid in the back," Chris Wilson noted. "Shhhh, I'm trying to listen," Anthony Montgomery said. "Who's that?" John Eubanks asked. "Choo-Choo," Choo-Choo said. "Sugar-Sugar," Leigh Torrence added.
Others took pains to point out that they would not be sporting frilly red tops.
"I wore bunny ears for Halloween and I'm still hearing about it," Mike Sellers said.
"Clinton's a little wild man," Philip Daniels said.
"Choo-Choo ain't taught me nothing, I don't know what Choo-Choo talking about," Randle El said, Chop-Chopping the factual underpinnings off this whole enterprise. "He's on the train, I don't know what he's talking about."
Someone asked Choo-Choo whether he was sending a message to the Eagles. (Message: we're a hell of a lot weirder than you?)
"It ain't no message, it's a message for the Washington Redskins, go out and have fun," he said. "When you're having fun, you're winning, and if the Washington Redskins have fun, they got a chance to win."
Of course, Bill Belichick looks like he's undergoing a weekly colonoscopy on the sideline, and yet he seems to win. But in D.C., we like fun with our wins, I guess. So would this coming weekend be fun for Portis?
"I don't know man, that's why I'm here to teach him to dance," Choo-Choo said. "I hope he get in the end zone. I'm gonna teach him," he promised, dancing and shrieking. "I'm gonna teach him, man, I' m gonna teach him."

By Dan Steinberg | November 8, 2007; 4:22 PM ET
Categories: Redskins
Save & Share:
Previous: Clinton Portis is Back
Next: Local Preseason Poll: Additional Pithy Comments
The comments to this entry are closed.