DeShawn's Beard-Growing Contest
With Gilbert having snuck off the Verizon Center court before practice was opened to the media today, his Wizards teammates were forced to pick up his blog-filling slack. So, for example, look yonder! Oleksiy Pecherov is insisting to Brendan Haywood and Director of Player Development Ed Tapscott that he will make a shot from half-court! Whilst wearing his massive protective boot over his broken right ankle!
"Give me five tries," he requested.
He missed the first four, then set the stage for his last-second heroics. "It's the last game, Game 7, against San Antonio," Pecherov said as he assumed his position at mid-court.
"That's the best shot we can get?" Haywood asked. "Were in trouble."
The shot looked great, but clanged off the rim. "Overtime," he said with a shrug. Then he promptly made his next half-court attempt.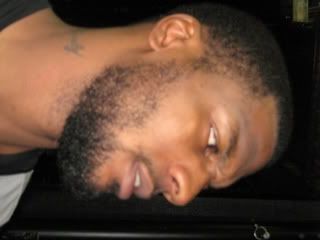 "There we go," he said. "Easy. If you don't want to shoot, pass to me, I'm gonna shoot." I asked why he was taking half-court shots while wearing a walking boot. "I want to feel the ball," he said. "I just want to stay in touch with the ball."
Meanwhile, observe a bearded DeShawn Stevenson, discussing Gilbert. "Our team is better when he's going on rampages," DeShawn admitted. "When he goes off his feet he can't herky-jerk like he used to. You'll just see flashes, but he'll be all right....Gilbert's a star in this league....I'll give him by the end of this month, he's going to be the old Gilbert."
More importantly, uh, why the beard, DeShawn?
"I've got a bet with Drew Gooden," he said.
Yes, that's right, our very own DeShawn has made what we're calling an "undisclosed wager" with the formerly ducktailed Cavs forward Gooden, who began growing his own beard over the summer. Both guys live in Orlando, and they saw each other socially. Gooden had a beard, Stevenson made a comment, and so Gooden challenged him to grow facial hair of his own.
"So I said all right," Stevenson said. "He said 'who cuts it first,' I said let's do it," and the rest was history.
Two months later, all is going according to plan. DeShawn says the beard doesn't itch, and he's allowed to edge it up to keep from looking "all nasty," as Wiz beat writer Ivan Carter put it. There was some concern in the locker room that the beard might be a bad-luck charm, what with that 0-5 start and all; Gilbert Arenas kept asking Stevenson to shave it off. But I'd disagree; I'd argue that a long and stringy beard will bring power, and accuracy too; Tolstoy was killer from three-point range. I asked DeShawn what he thought he'd look like in March.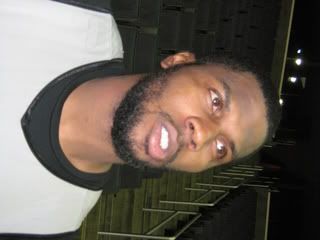 "Probably look like Teen Wolf," he said one time. "Probably Moses," he said another time. "Moses with an even cut."
Teammates came up with other metaphors.
"He's going into his Rocky mode, I guess," Caron Butler said. "Remember when Rocky was training to fight the Russian and he had the big beard and everything?"
SLAM's Lang Whitaker, of course, has already e-mailed Gooden to tell him he looks like Abraham Lincoln.
"LOL! U know I always got something up my sleeve!" Gooden reportedly replied.
I asked Butler whether he would join Stevenson in bearded solidarity; "Nah, I had lasers," he said. "I lasered the facial hair stuff off of me. I don't want hair on my face."
Pecherov, though, was looking a little scruffy. About a week's worth of scruffy, as it turns out.
"Just forget to shave," he said. "Maybe tomorrow I shave, maybe not." I told him about Stevenson's wager, of which he hadn't heard. Pesh was highly disappointed that Stevenson's beard is as insubstantial as it is, considering the circumstances.
"It's been six weeks already?" Pesh asked. "It should be like this," he said, gesturing toward his waist, "like big, big, big old guy. Everybody's different," he decided, philosophically. "I wish he wins."
By Dan Steinberg | November 13, 2007; 4:06 PM ET
Categories: Wizards
Save & Share:
Previous: Esky's Back!
Next: Beard Challenge '07: Drew Gooden Responds
Posted by: sitruc | November 13, 2007 4:29 PM | Report abuse
Posted by: ScottVanPeltStyle.com | November 13, 2007 5:31 PM | Report abuse
Posted by: Mike in SD | November 13, 2007 5:52 PM | Report abuse
Posted by: James | November 14, 2007 7:12 AM | Report abuse
Posted by: i | November 14, 2007 7:59 AM | Report abuse
Posted by: Unsilent Majority | November 14, 2007 9:26 AM | Report abuse
Posted by: Mischa | November 14, 2007 12:00 PM | Report abuse
Posted by: dr mr | December 21, 2007 2:51 AM | Report abuse
The comments to this entry are closed.