'Dre and Pesh's Rap Group: Dalmations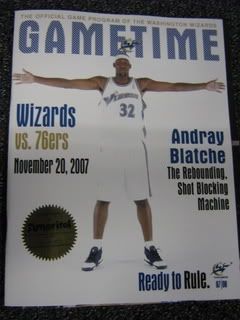 The D.C. metro area sportswriters club has never been accused of particular hipness. Still, I'm proud to report that at least one scribe thought Dre Blatche's upcoming Vlog, first discussed last night, would be titled "When Keepin it Real Goes On."
It was that kind of night in Wiz land. More on that later, but first, watch this. And you must watch till the end to see Big Oily Pecherov sing Russian ditties.

So you see, Andray Blatche fancies himself a rapper. He says he's starting a musical group. Here were some of his freshest pre-game lyrics:
"My name is AB, I rocks the mic, chilling in the alley, in my black and white."
"That's terrible," Roger Mason pointed out.
"My name is AB, I'm thirty-two, I'm about to go out here, and...."
Sadly, he couldn't think of what to say next. It was a promising start, though. But then he found Oleksiy Pecherov and convinced Pesh to sing in Russian, and later, Dre couldn't stop talking about the group, and how their singing had foretold his breakout game.
"Oh, you didn't hear my rap?" he asked some media folks. "You want to hear my rap, go to YouTube, type in Andray Blatche, and you're gonna hear me singing my song, me and Pesh. We kind of predicted this. He sung and I rapped."
Some brave soul asked Dre for more rapping.

"No, I can't give it to you all the time," Dre said. "If I give it to you for free, everybody's gonna be asking me for some bars. I can't give you all my bars."
I asked about Pesh's song.
"He was singing in his language," Dre said.
"I was heard zis song like two hours before on the radio, so it's just some Russian song about love," Pesh said, when I found him by the elevator.
I asked what it was called. "I don't remember," he said. "But it's just like nice and quiet song, Russian song, about love." He also said Dre sometimes tries to sing with him, in Russian.
"I sing zis music when I valk, you know, and he listens zis so he try and catch up," Pesh said. "It's funny, you know?"
"I be trying some times, but it's hard," Dre confirmed. I asked him what the duo's group would be called.
"We haven't come up with it yet," Dre said. "It's gonna be me and Pesh. We're gonna pick Dominic [McGuire] up; it's gonna be a group. Dominic's gonna be in it too."
Singing? McGuire?
"He's gonna rap," Dre said. "He's a hard-core rapper."
Really?
"Ganster rapping," McGuire agreed. I asked for more details. "I don't even know what they're talking about right now," McGuire said. "I just went along with my boy because that's my right-hand man. I have no idea what he's talking about, but he put my name in it, so I'm gonna ride it out with him."
Nick Young appeared, and he wanted in.
"I'm gonna be on the dance squad," he decided. "I'm doing the crank dance, because they need a back-up dancer. We're gonna get it cranking."
I asked Young about the singing thing. "Pesh is good, Pesh is actually better than Dre," Nick said. "But you can hardly understand what he's talking about."
Nick said the group would be called Dalmations, after the duo from Queen Latifah's "Brown Sugar."
"I told you, listen, he don't know nothing about my group," Dre protested. I asked for a full list of the group members; "I told you, right now we've only got me, Dominic and Pesh," Dre said. "I don't know if Brendan's gonna sing or not."
"Sing what?" Brendan Haywood asked.
"I'm starting a musical group," Dre told him. "So far me and Pesh is in it."
"Oh my God," Brendan said.
"Go to YouTube," Dre said.
"Oh my God," Brendan said. "What's gonna be the name of the group?"
"I'm leaning toward Dalmations," Dre confirmed.
"It's a metaphor," Nick Young explained.
A metaphor. Right.
"I'm not talking about that," DeShawn Stevenson said, when I asked him about Dalmations. "Dre is a maniac."
Finally, here's what Pesh said when I asked if he was really starting a musical group with Dre.
"Ve vill see," Pesh said. "If he invite me. It's nice, it's nice. I have no voice, but I like to sing, so I vill be happy sing vith him."
Pesh said he likes both Russian and American music. This could be good.
By Dan Steinberg | November 21, 2007; 7:49 AM ET
Categories: Wizards
Save & Share:
Previous: GilTV is Launched: Everybody Wants to Be Gil
Next: The Caps: Things Are Looking Up
The comments to this entry are closed.