Hail to the Redskins, from Denmark and Korea
A few wags in the Jets press box, between repeated trips to the trough for the Meadowlands's famous pudding, suggested that Sunday's 23-20 overtime thriller was not, perhaps, the game of the day. Nonsense. We got to see seven field goals, a kickoff return for a TD and a successful onside kick: who doesn't love kicking highlights? And besides, find me another game that more closely mimicked the 24-20 final tally of that other game? More importantly, check out the mounting evidence of international love for the Redskins.
Like this Korean baseball anthem, found via Extreme Skins on the Web site of Seoul's LG Twins, sung to the joyous bouncing electro-techno tune of "Hail to the Redskins!" One t-shirt with my face on it will be awarded to any Korean speakers who can provide a translation for the lyrics, especially for the "Braves on the Warpath" bit. I've spent the past 20 minutes listening to some of the Twins's 14 or so other dance anthems, just to see if "Hail to the Victors" might be mixed in there, but I couldn't find it.
What's that, Korean-tinged Redskins-inspired baseball fight songs aren't enough for you? Well then, meet Claus, Tomas, Per, Rene, and Peter, five large Danes who, I kid you not, flew from Copenhagen to Newark to see the Redskins play the Jets. It was to be the first regular-season NFL game for all five Danes, whose tailgate was conspicuously low on Havarti. Also, they were drinking Miller Lite. Tomas was buying Redskins hats from roving vendors and trying to find somewhere to buy a Skins jersey in the Meadowlands; he's been a fan since the '91 Super Bowl.
"After Dan Snyder came, they've been mocking me about his free-agent policy," Tomas said of his buddies, who could have passed for offensive linemen, or at least old-boy rugby players. "I kind of like it. I expect big things every year, and then I'm usually disappointed."
Disappointed?
"Well, last year we were 5-11," Tomas said.
"You started Mark Brunell, how can you expect anything?" asked Per.
"As long as we beat the Cowboys, it can't be that bad," Tomas said.
See, they follow this stuff for real, and they speak better English than the typical FedEx Field tailgater! Like his friends, Tomas follows the league via NFL.com and this awesome Danish site called Draft Day: Football For Folket! "Chargers kunne ikke stoppe AP," indeed! Today, the Danes are off to Pittsburgh so Claus can watch his favorite team, the Steelers. Per and Rene root for the 49ers--although Per was wearing a Rutgers jersey on Sunday--and Peter, who was wearing University of Texas garb, roots for the Texans. The Texans?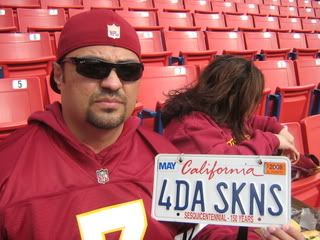 "I figured, hey, in 50 years when they start to get successful, I'm going to say I supported them from the beginning," Peter told me. "So I've been bleeding with David Carr, and now I'm bleeding with Matt Schaub instead."
Point being, the Korean-beloved Redskins drew at least one fan from Aarhus, who posed for photos with Jason Gomez, a longtime Redskins fan from New Jersey who was mounting his inflatable Redskins balloon thing on top of his SUV when Tomas came over. The parking lots were indeed full of Redskins fans, for example, Rick and Laura Nombrano, who actually brought their California license plate inside the stadium: "4DASKNS." The plates on Rick's other car? "4DASKNZ," silly. Rick and Laura flew from L.A. to Boston for the Patriots game, then from Boston to New York for the Jets game, then back to L.A. today.
(I should note that Rick was concerned about running afoul of California's prohibitions on racially offensive vanity plates, and so if anyone asks, "SKNS" and "SKNZ" both refer to golfing.)
By Dan Steinberg | November 5, 2007; 11:02 AM ET
Categories: Redskins
Save & Share:
Previous: Redskins Bonus Quotes: No Ugly Wins
Next: LaRon's Hair
Posted by: Dave T | November 5, 2007 12:27 PM | Report abuse
Posted by: Cal Y | November 5, 2007 12:51 PM | Report abuse
Posted by: Cal Y | November 5, 2007 12:58 PM | Report abuse
The comments to this entry are closed.