LaRon's Hair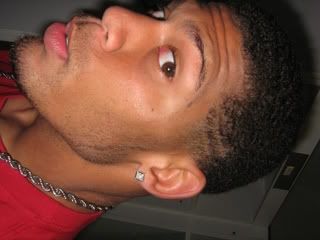 I must confess a shocking dereliction of duties here: I didn't notice until just yesterday that LaRon Landry has MC Hammer-inspired lines shaved into his left temple. This is interesting for two reasons: it gives Washington without any question whatsoever the best one-two-safety-hair-punch in the league, and it means that two of D.C.'s high-profile first round draft picks this month have the same hair sensibilities (see below for the Nick Young pic). Someone find Ross Detwiler and put some dang lines in his hair already.
Landry's post-game outfit yesterday included a Dale Earnhardt Jr. Budweiser jacket and a black-and-red Cincinnati Reds cap; as with the Atlanta Braves hat he's previously worn in postgame locker rooms, he insisted this was all about the style. Like the hair.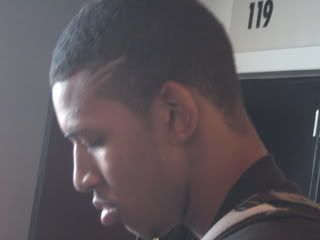 "Bringing back old school," he said. "I used to do this when I was like 5 years old, waaaaaaay back in the day. You remember when MC Hammer used to have 'em? MC Hammer and Michael Irvin. People say, 'Oh, you've got the Michael Irvin lines.' Nah, man, I brought it way back. MC Hammer, man. MC Hammer had it before Michael Irvin, you know what I'm saying?"
Landry would like you to know that the above photo doesn't do justice to his lines, since he didn't cut his hair last week. The lines are usually more pronounced. I asked him about Nick Young, but he had never heard of him.
"A lot of guys are doing it," he allowed. "I've been wearing this so long; I was in high school busting this."
As for football, I asked whether Sunday was his best performance thus far.
"Never had a best game yet, nope," he said. "I'm not gonna ever have a best game. It's never good enough for me, man, it's never good enough. It was all right, but like I said, I'm never having a great game. I'll probably have a good game, but I don't see myself having a great game."
And the team?
"Man, we had to get our swag back this game," Landry said. "Coming off that loss, we had a sour taste in our mouth. How much we lost by? 50-what?"
"52-7," I said.
"Yeah, something like that," he said. "We had to come back here and get the 'W' no matter what happened. Overtime? Ok, we came up with the win. A win is a win."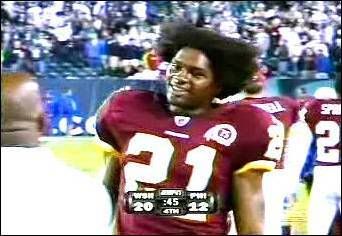 By Dan Steinberg | November 5, 2007; 12:29 PM ET
Categories: Redskins
Save & Share:
Previous: Hail to the Redskins, from Denmark and Korea
Next: Wiz on the Net: Gil4MVP?
The comments to this entry are closed.