Local Hoops Poll Week Two: Virginia Rising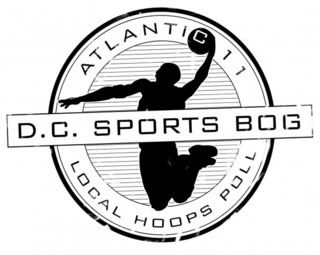 The historical records are a little spotty around Hoops Spectacular Poll HQ, but if I'm not mistaken this is a somewhat historic week for two area schools. UMBC is in the Atlantic 11! James Madison is in the Atlantic 11! Tell me they're not burning couches on those campuses this afternoon!
At the top, voters were left with a puzzle: how to handle Virginia's win at Arizona (the best by a local team this season) vis a vis Georgetown's lofty national ranking. Sixty-three voters handed their first-place tally to Georgetown; seven chose Virginia.
Poll movement: Virginia surges ahead of Maryland for the second spot. VCU's two losses costs the Rams two spots, allowing unbeaten GW and Virginia Tech to move up. Plus the three new additions at the bottom. Eight of our 27 MD/DC/VA teams remain undefeated; all eight show up in this weeks Atlantic 11.
The AP ranks 'em like this: Georgetown, Virginia, George Mason and Maryland (tied). The coaches rank 'em like this: Georgetown, Virginia, Old Dominion, George Mason, Maryland.
Results after the jump.
1. Georgetown (2-0) 691 (63)
--Wednesday at Ball State.
--Dear Hoyas, Wish you were here! Love, the BB&T Classic. (David Larimer)
2. Virginia (3-0) 608 (7)
--Tuesday vs. Drexel, Friday vs. Penn at the Palestra, Saturday vs. TBD.
--Sean Singletary scored 24 while battling the flu in upset over Arizona? Greivis Vasquez just called, asking if Sean can sneeze on him. (Paul Campbell)
3. Maryland (3-0) 506
--Tonight vs. UCLA in Kansas City, tomorrow vs. TBD, Friday vs. Lehigh.
--Just added Joe Harrington to the staff as an assistant coach. Apparently the Terps needed to work on throwing interceptions. (Gavin Weiss)
4. George Mason (3-0) 462
--Thursday vs. Kansas State in Orlando, Friday and Sunday vs. TBD.
--In semi-related news, the Patriots just scored again. (Sean Perkins)
5. George Washington (2-0) 364
--Saturday at No. 9 UMBC.
--Having beaten the Terriers with the Retrievers on deck, GW is right on track towards winning Westminster this year. (Max Wass)
6. Virginia Tech (1-0) 290
--Thursday vs. Eastern Washington in Anchorage, Friday and Saturday vs. TBD.
--Do Hokies eat turkey on Thanksgiving, or is that considered cannibalism? (Bill Fitzgerald)
7. VCU (2-2) 247
--Saturday vs. Elon.
--Miami= Football School. Arkansas=Football School. Pull yourself together. (Joshua Meredith)
8. Old Dominion (2-1) 189
--Tuesday vs. Iona, Friday at North Carolina
--Monarchs have back-to-games against North Carolina and Georgetown later this month. Funny, I didn't know the Marquis de Sade was in the scheduling business. (Bill Fitzgerald)
9. UMBC (3-0) 117
--Tuesday at Lafayette, Saturday vs. No. 5 GW.
--I'm pretty sure UMBC is a bank. (Markus Videnieks)
10. James Madison (2-0) 108
--Wednesday at unranked VMI, Saturday vs. unranked Mount St. Mary's.
--They scored 100 points against Siena, which beat Stanford. I'm pretty sure that equals 4,924 points against VMI. (Matt Bonesteel)
11. Loyola (3-1) 67
--Tuesday at Seton Hall, Friday vs. unranked Howard at the Palestra, Saturday vs. TBD.
--Came into the week as my #14, but was the only team not to lose to someone awful. Congratulations. (Jason Anderson)
Also receiving votes: Morgan State 32, Towson 21, American 20, Hampton 15, Coppin State 7, Norfolk State 6, William & Mary 5, VMI 1, Mount St. Mary's 1, Richmond 1, Maryland women 1, GW women 1, Navy football 1.
By Dan Steinberg | November 19, 2007; 5:13 PM ET
Categories: College Basketball
Save & Share:
Previous: Today's Top Five: Gil = Nacho
Next: Today in Hard Fought: "Extremely"
The comments to this entry are closed.