Operation Gilbert Arenas: Success!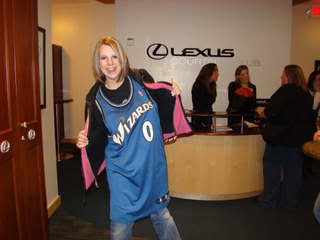 I first met the Operation Gilbert Arenas crew last April, as the Wizards' season was falling apart.
To recap, three female NBA fans from Iowa had become enamored with Gilbert when he high-fived one of their daughters at a T-Wolves game a few years back. So they got courtside seats to the Wiz's game in Minnesota last year, planning to get Gil's jersey by any means necessary. But a massive blizzard prevented them from making the game, and their friends--who used the tickets--failed to get the jersey. So the ladies made blinged-out "Operation Gilbert Arenas" t-shirts and bought airline tickets and courtside seats for the Bulls' Wolves' trip to D.C. last spring, but by the time the game rolled around, Gilbert's season had ended due to injury. The ladies were thus oh-for-three when we met, but they vowed Operation Gilbert Arenas would continue until its mission was fulfilled.
This operation was rejoined last Friday, when the Wiz journeyed back to Minnesota. Of course, the OGA gang was petrified that Gilbert's balky knee would prevent him from making the trip, but their plan had already been made. This was the plan: a rented limo to ferry an expanded group of six women (wearing six blinged-out t-shirts) the five hours to Minneapolis, courtside seats near the Wizards' bench, total expenses of about $6,000, and an early-evening scouting trip to the floor, where they met Wiz Manager of Team Services Jackie Miles. Miles talked to Gil, who promised to blog about Operation Gilbert Arenas and told the ladies to make sure to yell so he knew where they were.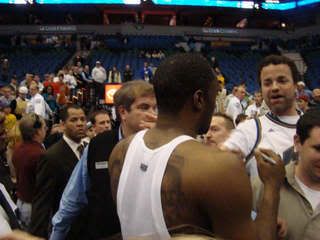 "So, of course, we were yelling our heads off," said Julie Walker, the ringleader of OGA and the mother of major Gilbert fan Ashtin, 14. "Everybody around us knew what our purpose was: our purpose was getting the jersey."
Gilbert waved to them, and Miles kept telling them to keep yelling, and so they cheered for the Wizards throughout, earning several appearances on Comcast SportsNet's game coverage. The game ended, the Wiz won, and Gil approached the OGA crew.
"It was kind of surreal," said Amanda Young, one of the original three. "He stopped right in front of me. I was like, 'It's coming to me, I know it is.' "
The jersey flew through the air toward Young. Time stood still. And then? Chaos. A 20-something fan flew over Young's back and tried to tear it out of her hands. They struggled. Security approached. Curse-words were issued. The kid kept trying to claim the piece of blue fabric that the OGA crew had spent two years and nearly $10,000 attempting to acquire.
"I wasn't about to allow that to happen," Young told me. "I was like, 'I will bite you!' I had to rip it back from him....One of the girls was like, 'I always thought of Amanda as sweet and innocent, but I saw a side of her I hope never to see again.' "
"They told me if he threw it anywhere close to us, they would go to jail, they would get bloody, they would do whatever they had to do to get it," said Walker, who was screened off from her crew. "It didn't come back with blood on it, by the way," she added.
Yup, that's right, the good guys won. Arena security and Miles helped ensure the jersey remained with its rightful owner; Gilbert then signed the jersey and all six Operation Gilbert Arenas t-shirts. Some other fans warned the OGA crew that their nemesis was out on the concourse talking about getting the jersey back, so the ushers transported them across the floor so they could make their successful getaway, with Amanda wearing the jersey so it would be extra-hard to steal.
"We were totally in shock, totally," Julie said. "[Friends] said, 'You don't act excited;' I was like, 'I'm past being excited.' I think we're still in shock, you know."

One question, perhaps, remains. (Well, two, if you count the question of whether Gilbert will blog about this.) Why did three women from Iowa travel halfway across the country, create blinged-out t-shirts, rent a limo, buy a second set of courtside seats, take a 10-hour trip that brought them home at 5 in the morning and spend nearly $10,000 to get a jersey from a player they have no natural reason to care about? Julie considered the question. Her daughter, she told me, thinks that Gilbert and Julie are similar: they relentlessly pursue their obsessions, maximizing their fun along the way, without regard for whether that makes them "different."
"Everybody would think I'm doing something quirky to get that for her, but to me that's normal. I think he would do the same thing for his kids if they wanted that, don't you?" Julie asked me. "I don't know, we want to make our kids happy. Yeah, we went to the extreme. But it was worth it."
Anyhow, Julie brought the jersey to work yesterday. The photos from the evening are already on the OGA crew's desktops, and the jersey and possibly the t-shirts will be framed by Christmas. Gilbert now has six more fans in Iowa, as do the Wizards, and Operation Gilbert Arenas, they assured me, will live on.
'It's complete," Julie said, "but it'll never be over."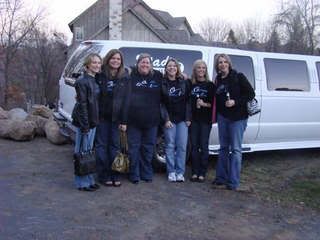 By Dan Steinberg | November 20, 2007; 4:30 PM ET
Categories: Wizards
Save & Share:
Previous: Chief Zee in Dallas: The Video
Next: Today's Top Five: Watching Skins with Nana
The comments to this entry are closed.