Redskins Fans: Still Weird!
As mentioned earlier, it seemed a particularly festive pre-game crowd yesterday. Thankfully I didn't have to mingle with the post-game crowd, but let's take a look at more pre-game weirdos.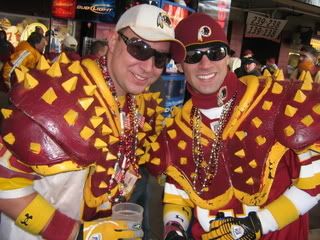 Meet Craig Redzensky and Mike Christenson from Annapolis, although they'd prefer you refer to them as the "Nation of Domination." How many members does the Nation have?
"It's just us two," Mike said. "But you know what? We don't care, because we rule our Nation."
They've been dressing thus for six years, although this was the first I'd seen of them. Also, they made the shoulder pads themselves. Their legs were highly costumed as well. I said FedEx needed more fans dressed thus, and they agreed. "You know what I'm tired of?" Mike asked. "I'm tired of opposing teams' fans coming into our house, that's what I'm tired of."

This is Jennifer K.; I can't read her last name. "Call me Pocahontas, though," she requested. Honestly, some doctoral candidate in cultural studies is going to get a PhD for hanging out in an NFL parking lot some time, I've got no doubt about that.
Many more after the jump.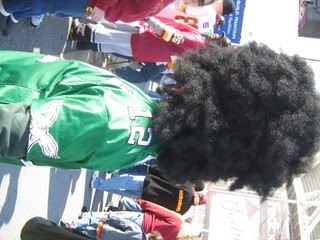 Not technically a Redskins fan, but jeez, that's the biggest Fro wig I've ever seen at an NFL game.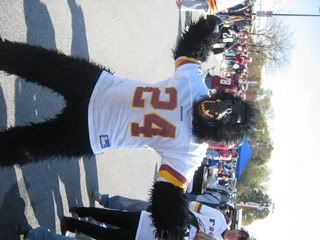 This is Tom Welch. By this point, I had sort of stopped asking natural journalistic questions, such as "Why are you dressed as a gorilla?" and "if you're going to dress like a gorilla, shouldn't you at least have a Sean Taylor jersey?"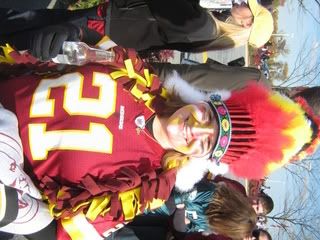 Didn't get her name. Although she'd no doubt have requested that I refer to her as Sacajawea.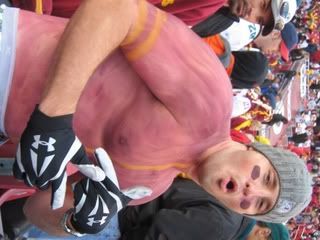 Here's Nate Kibler, who had some excellent seats. I was admiring his body paint job from the press box, so I wandered down at halftime to get some pics. I asked if he felt cold. "I don't feel anything right now," he said. Nice gloves, too. Below is his back.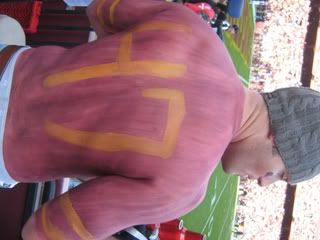 By Dan Steinberg | November 12, 2007; 12:34 PM ET
Categories: Redskins
Save & Share:
Previous: On Wasting Timeouts
Next: BogBio: Roger Mason's Construction Business
Posted by: ScottVanPeltStyle.com | November 12, 2007 2:54 PM | Report abuse
Posted by: R.J. | November 12, 2007 5:24 PM | Report abuse
Posted by: Jonny Kibler | November 12, 2007 9:30 PM | Report abuse
Posted by: President of the DTC | November 13, 2007 9:21 AM | Report abuse
The comments to this entry are closed.