Sean Taylor and Eastern Motors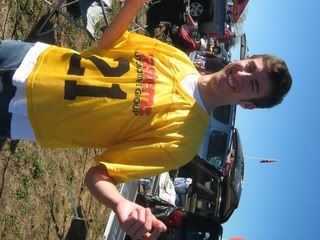 I couldn't remember whether I had ever seen Sean Taylor actually singing the Eastern Motors jingle. So I asked Easterns owner and CEO Robert Bassam.
"Yes, he's part of the jingle." Bassam told me. "He sang the song and he danced the dance."
Taylor was no longer a part of the Easterns team this year. This year's ads focus on offense--Campbell and Randle El and Moss and Portis and McGahee--and Taylor had told Bassam about his time constraints because of his daughter. Still, the Easterns people I've spoken with have sounded pretty torn up. The whole Easterns ad campaign is obviously absurd and over-the-top, but the sponsorship involves lots of appearances and photo shoots and they all actually wind up spending a decent amount of time together; Bassam, for example, met Taylor's father and talked with Sean about family stuff and the whole deal. And Bassam sounded much like Taylor's teammates when discussing the safety.
"Just truly, truly a misunderstood, great kid," he said. "Very soft-spoken, extremely polite, always looking to have additional conversation, truly interested in how my family was. Last time I saw him he went out of his way to show me his baby pictures. He was a very, very proud person. He was misunderstood in our area to where it seemed like he was just happier to go home, be with his family and play football. That was it. He found contentment in that. He was always helpful, always cooperative, always there to do whatever we needed him to do."
Anyhow, Taylor did about three individual TV commercials and one group commercial for Easterns, which hands out nicknames to all of its sponsored athletes. Bassam came up with Taylor's. He was "The Punisher."
"His was the most obvious," Bassam said. "Every one had to pay if they came and saw him down the middle. [The nickname] was very fitting. He approved it. He was ok with it. He enjoyed it."
Even though Taylor wasn't a sponsored athlete this year, his face still remains wrapped around one of the Easterns street-team Hummers; "I don't even know what to do with it," Bassam said.
In his most famous ad, seen below, Taylor levels an Easterns salesperson who is not sufficiently respectful to a customer. Bassam came up with the concept for that ad. "When he knocked that guy on his back," Bassam said, "it made all the sense in the world."
By Dan Steinberg | November 29, 2007; 12:57 PM ET
Categories: Redskins
Save & Share:
Previous: Colin Cowherd on Sean Taylor
Next: Clinton Portis's Extensive Taylor Remarks
The comments to this entry are closed.