Taylor Jersey Sales Spiking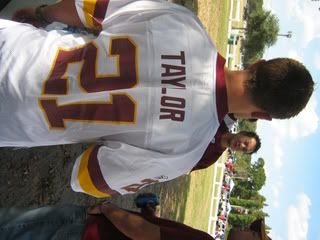 I've wondered for a while which Redskins player's jersey was the best-selling. Sadly, today finally prompted me to find out. The answer, as you might have guessed, was Sean Taylor, followed by Jason Campbell and Chris Cooley, according to the latest NFLShop.com numbers. All three guys were in the top 50 of league-wide jersey sales, although none made the top 25. But among male-cut jerseys, Taylor cracked the top 25; he was 24th, to be precise, from April 1 through Oct. 31.
As you'd expect, Taylor jersey sales are now going through the roof. Over the past two days, NFLShop.com has sold more than twice the number of Taylor jerseys it sold from Nov. 1 through Nov. 25, and that percentage will continue to rise. NFLShop.com has also sold out of Taylor replica jerseys, the most common jersey purchase.
Also, when the next round of Pro Bowl fan balloting is released tomorrow, Sean will be the leading vote getter among all NFC free safeties. Through the end of Monday, he had 129,605 votes. You can vote here.
UPDATE: Here are the top 25 men's jersey sales from NFLShop.com, through Oct. 31. Taylor was fifth among all defensive players in the NFL, and second among DB's.
1. Tony Romo
2. LaDanian Tomlinson
3. Brett Favre
4. Purple Jesus aka Adrian Peterson
5. Brian Urlacher
6. Tom Brady
7. Brady Quinn
8. Peyton Manning
9. Troy Polamalu
10. Reggie Bush
11. Randy Moss
12. Brian Westbrook
13. Marion Barber
14. Calvin Johnson
15. Frank Gore
16. Terrell Owens
17. Vince Young
18. Ben Roethlisberger
19. Jay Cutler
20. DeMarcus Ware
21. Shawne Merriman
22. JaMarcus Russell
23. Drew Brees
24. Sean Taylor
25. Brian Dawkins
Here's a tribute video that was just sent to me.
By Dan Steinberg | November 27, 2007; 2:20 PM ET
Categories: Redskins
Save & Share:
Previous: More Taylor Memorials
Next: Why Buy Taylor?
The comments to this entry are closed.