The Jets Media: Not Impressed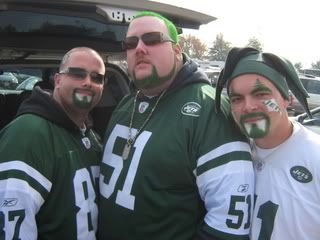 With the Redskins having survived the Jets by the slimmest of margins, several players and coaches went out of their way to praise the Jets as a tough, hard-luck team just a few plays away from having a winning record. Here's what the braying mob of New York media persons had to say about that. The lovely illustrations are of lovely New York Jets fans, who are supposed to distract you from the ugly words contained below.
Daily News: "The latest debacle was bad on so many levels....The Jets, who blew a 13-point lead two weeks ago in Cincinnati, squandered a 14-point advantage because they played one of the worst defensive games in their history....Bad teams find new ways to lose. The Jets are a bad team."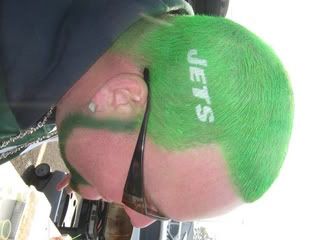 New York Post: "The Jets, it seems, would find a way to lose with Tom Brady or Peyton Manning at quarterback. quarterback. The Jets, you see, spring a new leak every game. Eric Mangini and his staff fix a few leaks one week and the boat is taking in water from somewhere else the following week. Forget that the Jets are in every game they play - they again led at halftime yesterday - at 1-8 they are fast becoming one of the embarrassments of the NFL this season, pretty damning for a team that hasn't been ravaged by injuries."
Bergen Record: "The entire Jets' locker room was down Sunday, the disgust of yet another late meltdown (New York led, 17-3, in the second quarter) sticking with them for two weeks as they take next weekend off."
Newsday: "Like a toddler grabbing at packages in the aisles of a toy store, the Jets have been trying to get their hands on a victory. I want that one. Gimme that one. But each time, for the past six times, Mom has said "No."....Now comes this, the latest ugly lump in an already curdled season."
Star-Ledger: "A 23-20 overtime setback against the Washington Redskins yesterday at Giants Stadium was the latest head-scratcher -- one in which the Jets built, and then lost, a two-touchdown lead as their run defense failed (again) and their offense stalled (again) in the second half....It marked the third time in the past five games they've blown a double-digit lead, and the Jets are 1-5 in games decided by seven points or fewer....The Jets defense was awful."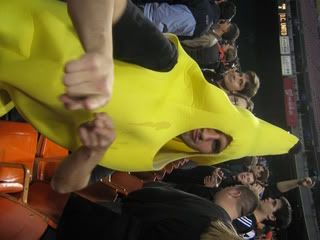 By Dan Steinberg | November 5, 2007; 2:45 PM ET
Categories: Redskins
Save & Share:
Previous: Wiz on the Net: Gil4MVP?
Next: This Week's Vegas Oddsmakers' Top 25/30
Posted by: ScottVanPeltStyle.com | November 5, 2007 3:10 PM | Report abuse
Posted by: banana man | November 5, 2007 3:26 PM | Report abuse
Posted by: Ted | November 6, 2007 11:58 AM | Report abuse
Posted by: Adam Nalls | November 6, 2007 5:12 PM | Report abuse
The comments to this entry are closed.