Why Buy Taylor?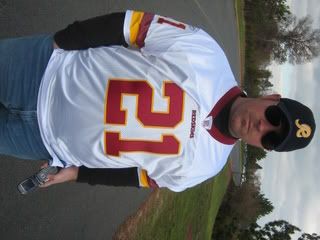 [I just got back from FedEx Field, where the team store is overrun by people buying Taylor jerseys. The guy working the counter said they weren't allowed to take to the media, but trust me, a lot of people are leaving with Taylor gear. Some of the following is repeated from an earlier entry, for the purposes of this going in tomorrow's newspaper.]
I always thought wearing a Sean Taylor jersey to a Redskins game signified a certain something about the person beneath that burgundy cover. A kind of self-confidence, or self-empowerment maybe; a demand for respect, a hint of power. If you're a wishy-washy type who gets nervous at the end of "Project Runway" and needs several hours to choose between Yuengling and Sierra Nevada, you would wear, I don't know, Clinton Portis or Chris Cooley or an ironic Michael Westbrook. If you just grab the Budweiser and go back to driving semis and chewing on bits of steel, you'd take the Taylor.
"I can tell you why they wear it, said Arville Brock-Smith outside FedEx Field tonight, where at least a third of the crowd was wearing '21.' "Sean Taylor was the essence of football, man. He had heart, talent and the love of the game. He embodied everything you liked in football. He gave up his body to play. Check out the folks that wear '21.' They're thorough folks. They have selected that for a reason. Check out the folks you see wearing '21.' You won't find too many soft folks."
After months of wondering, I finally called the NFL today to find out where Taylor ranks among Redskins in jersey sales. He was first, followed by Jason Campbell and Chris Cooley. Not too many teams can say their most popular player is a safety. No members of the Redskins cracked the most recent Top 25 in jersey sales on NFLShop.com, but among male-cut jerseys, Taylor was 24th, and the fifth best-selling defensive jersey in the league. At the risk of trafficking in testosterone-laced stereotypes, I'll just say I'm not surprised to learn that men were particularly drawn to the guy.
"For diehards, [Taylor] was ferociousness, determination, the bleeding of burgundy and gold," said Dave Edwards, who was wearing Taylor tonight. "No guts no glory, on every play."
"His jersey shows so much," agreed Mike Carter. "People just loved him, just loved what he brought to the field. He defined what a Redskin should be, because every game he left it all out there. Before he passed, we thought he'd be a Redskin for life. I think everybody felt the same way."
By Dan Steinberg | November 27, 2007; 7:42 PM ET
Categories: Redskins
Save & Share:
Previous: Taylor Jersey Sales Spiking
Next: A Redskins Ride
The comments to this entry are closed.