Wiz Rookies Wear Fur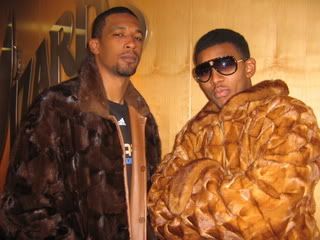 Just one week after I was celebrating the stylistic season preparations of the Wizards, the team is 0-3 and Andray Blatche's mohawk is long gone.
"I had to, it just wasn't my style," he said today. "I just wasn't comfortable. Maybe a little further down the line I might do something."
I asked one of the actual reporters whether anything funny would happen today, and he shook his head no. Oh-and-three is glum, somber, introspective. But modern youth knows no misery, not when there's Web 2.0 content to produce, and so in a sop to the local blogging community Nick Young and Dominic McGuire decided today would be a good day to steal fur coats from the closet of their landlord and blogging forefather, Gilbert Arenas, for use in their vlog, which has a decidedly Gilbertistic bent.
All of this will presumably be a lot less hilarious to Wizards fans if the losses keep piling up, but it's hard for me to believe that the basketball gods won't reward a team whose best player is using his blog to attempt to retract a controversial interview ("I didn't know you have to talk in interviews like you're talking to idiots and explain every little detail" ) even while his tenants and teammates are stealing his fur for their even-2.0'er vlog.
Anyhow, the rooks claimed they were rummaging around in Gilbert's closet when they found the furs. I asked what else was in the closet.
"Everything: shoes, clothes, jackets," Young said. "He was trying to give us stuff like sports jackets to wear to the games, because he knows we don't have enough casual clothes, not yet."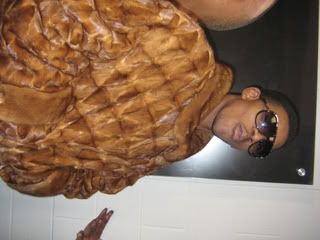 "He's got some nice stuff, he's got some nice clothes," McGuire said. "That's why we were in there."
As for the coats, "I haven't ever seen him in that," Caron Butler. said. "Must have been the old Gilbert, back in the day."
"Yeah, his rookie year when he was broke," Brendan Haywood said. "Terrible, terrible."
"I would never wear this," McGuire said. "It's just a joke. I would never wear a fur coat, never. It's not me. I'm not flashy."
"It's pretty warm," Young said. "I don't know what kind of [fur], if it's real or not. If it is, I don't know how much this thing costs. Very '80s, very Players Ball."
Indeed. Inevitably, someone brought up "American Gangster," and Young asked people to begin calling him "Nicky Barnes" and to call Gilbert "Frank Lucas," after the gangsters in question, and it was remarked how happy this would all make David Stern, and both rookies emphasized that this was just a joke but that the precise nature of the joke could not be revealed before their vlog is released.
Pretty soon, professional sports leagues won't even need to hold athletic competitions; they can just employ young men to dress up funny and blog and vlog and engage in what Gilbert calls "antics," which I'd be all in favor of, although then fantasy sports gurus would need to find new lines of work, which, come to think of, I'd also support.
Regardless, concerning the union of fur coats and urban culture, I knew I needed to find Ukrainian-born-but-hip-hop-schooled Oleksiy Pecherov to ask about proper fur coat style.
"Yeah, I saw Nick's coat. It's pretty good for Ukraine," Pecherov said. "It should be warm, because we got the coldest winter."
And could he match such winter styles?
"I've got some coats but not like that, nothing fancy," Pecherov said. "But I left all coats in Ukraine. I should buy. I need to buy right now in the States something. Maybe I'll ask Nick to help me out, 'cause he did a good job."
If this team can get a win on Thursday, I thoroughly expect the entire bench to wear matching shapkas during player introductions Friday night.
By Dan Steinberg | November 6, 2007; 3:48 PM ET
Categories: Wizards
Save & Share:
Previous: The Wiz Spell Oleksiy Pecherov
Next: Wiz Dealing With 0-3
Posted by: littles | November 6, 2007 4:09 PM | Report abuse
Posted by: Jamie Mottram | November 6, 2007 4:11 PM | Report abuse
Posted by: Mike in SD | November 6, 2007 4:14 PM | Report abuse
Posted by: Unsilent Majority | November 6, 2007 4:23 PM | Report abuse
Posted by: Anonymous | November 6, 2007 4:45 PM | Report abuse
Posted by: Nancy | November 7, 2007 9:28 AM | Report abuse
Posted by: Anonymous | November 7, 2007 12:31 PM | Report abuse
The comments to this entry are closed.