Eight Outstanding Wizards Facts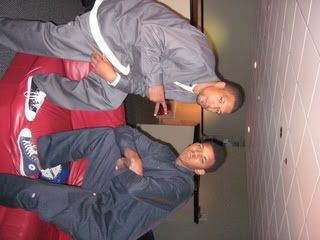 Dominic McGuire and Nick Young were taping their newest Domi.Nick vlog today. I was allowed inside the taping. At one point, apropos of nothing, Young busted out with this:
"Man, this is a crazy team."
And McGuire followed up with this:
"I love this team, though."
In 11 words, they said what it often takes me several thousand to convey. So we'll call that the executive summary. In the meantime, here are eight newly learned Wizards facts.
1) DeShawn Stevenson buys deodorant from Costco, in bulk five-packs. "Just in case," he said. "In case I lose one, so I won't be musty."
2) Caron Butler is sponsoring the Caron Butler Classic tonight at Coolidge High, featuring basketball teams from Coolidge, Ballou, Bishop McNamara and DeMatha, and appearances from the mayor, Chuck Brown, a band called Mambo Sauce and Caron and his family. The event will raise money to send kids to Caron's basketball camps.
I was inclined not to mention it; "You had an article and blog about DeShawn's beard and you're not going to talk about a classic that's helping kids, the local community?" Caron complained.
True. Ok, more info here, and go support the community, or whatever, tonight at 6. And speaking of the beard-growing contest, beard-growing foe Drew Gooden is in town tomorrow night.
"Yeah, easily," Stevenson said, when asked if he still thought he'd win the beard-off. "I mean, it's not that bad. I might look 60, but...."
3) And then there are those outfits seen above, the full Dickies solid-color creased suits with high-top tongue-folded-down Chuck Taylors, which Nick, Dominic and Andray Blatche bought last week in Philadelphia. "You can get this at your local swap meet, though," McGuire told me. They actually debuted the outfits in the locker room before last week's Sixers game.
"Oh, that was terrible," Stevenson remembered. " It's just like an old West Coast movie, like an old Dr. Dre movie." Another person who saw the outfits called Young and McGuire the "Bamas of the week."
"We're gonna get Pesh in a Dickies suit one day," McGuire promised, as Oleksiy Pecherov observed the coordinated pair.
"Where did you buy zis?" Pesh asked, while Young practiced his dance moves in the training room. "Living in Ukraine, zese shoes cost $4. Seriously. It's not Converse, but it looks ze same."
The outfits were an homage to Cali style, which I assumed the rookies had purchased merely for vlogging purposes. "Nah, I'm gonna really wear it," McGuire said.
4) McGuire, Young and Blatche are now calling themselves "The F3," which stands for "Future 3," and is meant to complement the team's so-called Big Three, who have never, as far as I know, bought matching Dickies outfits in Philadelphia.
"It might change one day, but for right now it's 'The F3,'" McGuire said, as he sat on a couch waiting for the taping to begin. "Will you please get your leg off of me?" he said to Young, who was seated beside him. Honestly, I can't tell you how many times they quibbled about personal space on this couch.
"Too close," McGuire said at one point.
"I thought we were brothers, man," Young said, clearly hurt.
"That doesn't mean you have to put your leg on me," McGuire replied.
You'll have to watch the vlog when it's released tomorrow, but the highlight is clearly McGuire's impersonation of his teammates. And Young's dance moves. Actually, there were a lot of highlights.
5) Teammates are willing to join the Nick Young For Dunk Contest campaign. Roger Mason said there's "no question" Young is the Wiz's best dunker, and Stevenson said Young "easily" deserves a spot in New Orleans.
"You need to put that in the paper so he can get in there," Stevenson said. "Put in there I think he'd beat Dwight [Howard], easily. Dwight'll get mad about that."
6) Caron Butler is no longer permitted to drink Mountain Dew. How much Mountain Dew did he used to drink, you're wondering?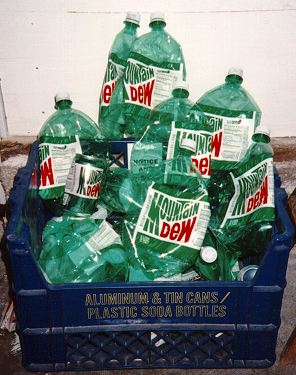 "A lot," he said. "Before every game at Connecticut, I drank a two-liter of Mountain Dew. I'm dead serious. Ask my wife what she would have to go get me before a game. I'd be like, 'Hey, stop by the 7-11, bring me a two-liter.' "
I had prefaced my Mountain Dew inquiry by saying I had a stupid question, but now the serious beat writers got interested. Two liters of oh-so-sweet highly caffeinated neon-yellow liquid hyperactivity, really?
"Yeah, I'd be wired," Butler confirmed. "I'd drink half [before the game], and then I'd drink half at halftime. Because, you know, it shoots you up. And then there's a down, and you're flat-lining, and you've got to go back up again. That's what I've been doing, but they don't want me to drink it any more. They done took my Mountain Dew from me."
Outrageous. Someone call Billy Hunter. The ban went into effect about two months ago. Not sure if anyone's been paying attention, but Butler is in the midst of a career, if less-artificially-flavored, season. Coincidence? No way. Still, he didn't seem too happy about the ban. He demonstrated the gravity of the situation, asking a team employee for a Mountain Dew. She told him that wasn't allowed, and offered him a water instead as media persons laughed.
"Y'all think this is just a game; it's dead serious," he said. "I've got six refrigerators in the house. I used to have Mountain Dews filled in all of them. I don't have A Mountain Dew in my refrigerator no more. It's crazy, man. Pretty soon they'll say I can't chew my straws any more."
7) Dominic McGuire sometimes Googles himself when he's bored. Man, he really was born to be a blogger.
(If you Google "Dominic McGuire," my silly little video bio is only about the 15th return. Meanwhile, if you Google "Joe Gibbs Stupid" or "Fire Joe Gibbs" or "Joe Gibbs Hard Fought," I'm No. 1!)
8) Nick Young has a nickname so spectacular that he and his teammates refused to disclose what it was. They insisted they merely call him "Nick Young," or "Nick." McGuire said sometimes it's "Hollywood." During the vlog taping, Young pointed out that he had the second-most prolific season in Southern Cal history, behind only Harold "Baby Jordan" Miner, and decided his nickname should thus be "Tiny Jordan."
But those aren't the real nicknames. The real nickname is still out there, with DeShawn Stevenson's lost deodorants and Caron Butler's confiscated Mountain Dews.
By Dan Steinberg | December 4, 2007; 4:56 PM ET
Categories: Wizards
Save & Share:
Previous: Pech vs. Dave Hopla
Next: S. Dot's Easterns Shoot
Posted by: TG | December 4, 2007 8:14 PM | Report abuse
Posted by: littles | December 4, 2007 8:17 PM | Report abuse
Posted by: pack4life | December 4, 2007 8:36 PM | Report abuse
Posted by: ScottVanPeltStyle.com | December 4, 2007 9:03 PM | Report abuse
Posted by: roc | December 4, 2007 9:58 PM | Report abuse
Posted by: i hate to... | December 4, 2007 10:12 PM | Report abuse
Posted by: andy | December 5, 2007 2:47 AM | Report abuse
Posted by: djsleeper.com | December 5, 2007 4:37 AM | Report abuse
Posted by: neil | December 5, 2007 7:29 AM | Report abuse
Posted by: tmc | December 5, 2007 8:44 AM | Report abuse
Posted by: WaPoLive16 | December 5, 2007 10:03 AM | Report abuse
Posted by: Delasoulos | December 5, 2007 12:27 PM | Report abuse
Posted by: CreditZard | December 5, 2007 12:29 PM | Report abuse
Posted by: Tacobellmanager | December 5, 2007 2:15 PM | Report abuse
The comments to this entry are closed.