Lastings's Watch and Lo Duca's Girlfriend
As mentioned yesterday, the Nats press conference wasn't exactly a laff riot. Sample question: "Paul, I spoke to Todd Jones, who you played with in Florida, and he talked about how great you were in your game-calling. Could you talk about your plan to help this young pitching staff, that's hardly experienced?"
Blog that, baby.
But even as I wrote eight stern and sober inches for the newspaper, I planned to wring whatever entertainment value possible out of the proceedings. It's what I do. Paul Lo Duca is a winner, and winners win. I'm a goof, and goofs goof. And so,
1) Did you notice that Lastings Milledge was wearing an argyle sweater vest before he put on his No. 44 jersey. Hmmm, where have I seen a pro baseball player wearing an argyle sweater vest before.....oh yeah, that's right, on the Soul-Ja Boi Records Web site! Sweater-vests must be his thing, huh?
"I mean, that's just his trademark," said his older brother Tony Jr., who also was wearing a sweater vest yesterday, albeit a solid-color one. "I really don't know why. He just says that's what he likes to wear."
"He likes to dress up but stay casual at the same time," said his mother, Linda.
"I don't know, just like 'em," Milledge told me, while the serious reporters were elsewhere. "They make me look slim. Even though I am slim; they make me look thinner."
[PS: AP reporter Howard Fendrich was also wearing a sweater-vest.]
2) Lo Duca and the serious reporters entered the room soon after.
"What is that, velvet?" Lo Duca said, feeling the shirt Milledge wore underneath the sweater vest.
Talk turned back to baseball, but after the serious reporters were done, I turned it back to clothing.
"Velvet, is that what your guess was?" I asked Lo Duca.
"Yeah, what is that, velvet?" he repeated.
"I don't know," Milledge said. "$29.99. I ain't gonna lie."
3) And how about that watch? It was, shall we say, hard to miss. Stan Kasten did not seem to want to offer commentary on Lastings's sweater-vest, but he admitted to noticing the watch.
"We did have a conversation about his watch," Kasten told me. "That's it, that's all you get."
"That's quite a watch," I told Lastings.
"Yeah, thanks, appreciate it," he said. It came from a jewelry store owned by one of his best friends from Florida. Turns out it was a Benny & Co handmade diamond watch. I asked whether that also cost $29.99.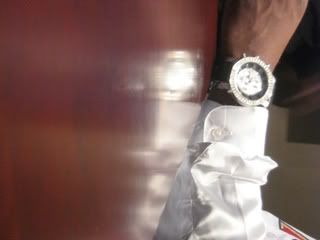 "No," he said, "that ain't $29.99."
4) He said Soul-Ja Boi is still around, but before we could talk more a PR person/angel of silence appeared, and so the quote was "right now I'm just trying to concentrate on baseball." Which I understand. That's what I'd say too. Although I wasn't the first one to bring up his musical career.
"And he will not be singing today," Jim Bowden announced as he helped Milledge try on his uniform at the press conference. "At least, I don't think so."
5) But you're thinking that Milledge was the only musical talent on hand yesterday? Ha! Ha, I say! You've forgotten about Paul Lo Duca's girlfriend, the pop artist Rietsa, whose upcoming debut album will be titled "The Addiction" and will hit stores in late April. You can listen to a single, "Cold Shower," over here.
If you can believe this, Paul Lo Duca said "I'm going to be in a couple of the videos" and then demonstrated a few dance moves. I asked Rietsa whether she and Lastings might possibly collaborate one day.
"You never know," she said. "Everyone's musical in their own way."
And just to ensure I would never be asked back to a Nats presser, I asked Bowden the same question.
"I told them in the elevator, they should do a duet," Bowden said.
6) Many sports blogs make their money by posting naughty photos. Usually of women. I try to avoid that tactic. But is it worth mentioning that Lo Duca used to be married to a Playboy model, and Aaron Boone currently is married to a Playboy model?
7) I mean, is it possible for one baseball team to get more bloggable in a two-week span than the Nats just did? I'm gonna channel Manny Acta from yesterday's press conference for a minute here: "I'm kind of old [and kind of Jewish], but Christmas came earlier than anticipated for me."
8) Just for fun, a leftover Jim Bowden quote:
"We're not ever gonna be done improving this team until our owners and Stan and Manny are standing on top of the White House holding the World Series trophy. We're never gonna stop. We're going to keep going until we've built a team that deserves to go to the White House for the purpose of holding a World Series trophy. We're just never going to stop, and keep working until we get there."
By Dan Steinberg | December 12, 2007; 12:31 PM ET
Categories: Nats
Save & Share:
Previous: Vegas's NFL Power Ratings
Next: CP's Bad Shrimp
The comments to this entry are closed.