Local Hoops Poll Today: Weak Sixters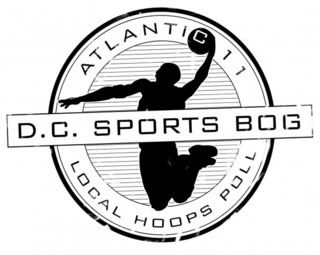 Seriously, this is why people are drawn to Ron Paul. Sometimes you just want to throw out your ballot and find something different to vote for, something besides the media darlings, something other than Maryland, Virginia Tech, UMBC and the rest of our Local dregs.
For some reason Georgetown took a step away from unanimity this week, with one first-place vote migrating to idle Virginia, which stayed in second place. VUC and Mason remained three and four. The rest of the vaunted Atlantic 11 went a combined 2-5 and isn't worth mentioning.
And so, for what I believe is the first time in Poll history, farewell to GW and welcome back, Morgan State. Two MEAC teams? No Karl Hobbs? James Madison again receiving votes for 2nd place, 10th place and every spot in between. Strange days, indeed. Which is perhaps why we're losing voters faster than Gary Williams is losing local recruits. Where is everyone?
The AP ranks 'em like this: Georgetown (5th). No other votes for Locals. Not one. A new low. The coaches rank 'em like this: Georgetown (4th) and Virginia (10 votes). It's still quite early to use this word, but there are no Local teams in the Top 35 of RPI. The RPI's Top 5 would go like this: George Mason (36th), James Madison (74th), VCU (78th), Hampton (79th), Georgetown (89th).
Results after the jump.
1. Georgetown (8-0) 629 (62)
--Saturday at Memphis.
--Don't worry Hoyas. Ever since his U-Mass. days, Calipari has had trouble with D.C. teams featuring "George" in their names. (Matt Bonesteel)
2. Virginia (7-2) 548 (1)
--Wednesday vs. No. 10 Hampton, Saturday vs. Elon.
--Least impressive No. 2 since Rob Lowe replaced Robert Wagner in "Austin Powers: The Spy Who Shagged Me." (Bill Fitzgerald)
3. VCU (7-3) 477
--Saturday at Bradley.
--I had never heard of Longwood before this poll. Now all I seem to read is [insert local team here] scores [insert large number here] in win over Longwood. (Clinton Yates)
4. George Mason (7-3) 416
--Friday at Florida International.
--Idle last week. If they can't even be bothered to schedule a game, I can't be bothered to come up with anything worth saying about them. (Jamie Paquette)
5. Old Dominion (6-4) 302
--Wednesday at unranked Richmond, Friday at Winthrop.
--Plays at Towson Jan. 9 in a matchup of former Montana coaches that will be broadcast locally in Box Elder, Hungry Horse and Ekalaka. (David Larimer)
6. James Madison (6-1) 301
--Tonight vs. unranked Radford, Saturday at Seton Hall.
--Georgetown had five days off and beat Radford by 59. The Dukes will have had 12 days off when they face the Highlanders. So, lets say JMU by about 206. (Markus Videnieks)
7. Maryland (6-5) 221
--Saturday vs. unranked American.
--Maryland fans need to have patience. This isn't exactly an era where experience hardly matters and freshmen can come in and dominate. Oh, wait, yeah it is. (Markus Videnieks)
8. UMBC (7-4) 213
--Saturday vs. No. 10 Hampton.
--Nobody goes into Central Connecticut State's house and comes away with a win. Nobody, that is except, Albany, New Hampshire, Sacred Heart and Mount St. Mary's. (Sean McLernon)
9. Virginia Tech (5-4) 176
--Wednesday vs. unranked Liberty, Sunday at Wake Forest.
-- Gets credit for going on the road to ODU. They'd get more credit if they actually won. (Eric Swensen)
10. Hampton (5-4) 87
--Wednesday at No. 2 Virginia, Saturday at No. 8 UMBC.
--Did you know that MEAC is an anagram for ACME? (Max Wass)
11. Morgan State (5-4) 23
--Friday vs. unranked Longwood.
--With a season-high 13 points against LaSalle, senior forward Karanvir Aujla is making a name for himself. Not a name you can pronounce or spell, but a name nonetheless. (Bill Fitzgerald)
Also receiving votes: George Washington 22, American 18, Mount St. Mary's 18, VMI 6, Towson 4, Loyola 3, Liberty 1, William & Mary 1, Greivis Vasquez's facial hair 1, Greivis Vazquez's sense of self-restraint 1.
By Dan Steinberg | December 17, 2007; 5:58 PM ET
Categories: College Basketball
Save & Share:
Previous: Rick DempseyClaus
Next: LaVar (Still) Seeks Hot Waitresses
Posted by: ScottVanPeltStyle.com | December 17, 2007 7:09 PM | Report abuse
Posted by: Bill Fitzgerald | December 18, 2007 9:42 AM | Report abuse
Posted by: littles | December 18, 2007 10:17 AM | Report abuse
Posted by: bryc3 | December 18, 2007 12:14 PM | Report abuse
Posted by: Hoya 1 | December 18, 2007 2:22 PM | Report abuse
Posted by: WaPoLiveFan16 | December 18, 2007 4:17 PM | Report abuse
The comments to this entry are closed.