Local Hoops Poll Week Five: Georgetown Wins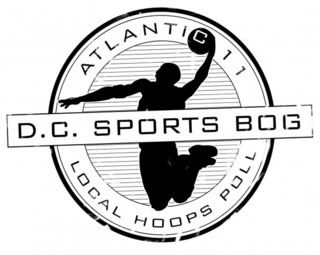 Apologies for the delay. No real excuse. But there were no Local games last night, so nothing changed.
There is at least unanimity at the top, with Georgetown first on 65 of 65 ballots. After that? What's the opposite of unanimity? Virginia Tech received votes for 4th place, 10th place and everywhere in between. VCU and UMBC received votes for 2nd, 9th, and everywhere in between. James Madison received mentions at every spot but first.
The makeup of the Atlantic 11 doesn't change, but the spots sure do. It was swap week: George Mason and VCU flip-flopped, UMBC and Maryland flip-flopped, Old Dominion and Virginia Tech flip-flopped, and GW and Hampton flip-flopped. As always, the results leave me despairing about democracy. How can Morgan State be behind American, when Morgan State has a head-to-head win and much better losses? What would GW need to do to drop out of the poll? Who is possibly voting for 1-9 Maryland-Eastern Shore? Would it be bad to resort to a quiz for prospective voters?
The AP ranks 'em like this: Georgetown (5th), Virginia (2 votes). Yup, besides Georgetown, the Atlantic 11 got a combined 2 votes from the AP. The coaches rank 'em like this: Georgetown (4th) and Virginia (9 votes). Wow, this season just keeps getting worse. It's still quite early to use this word, but there are no Local teams in the Top 30 of RPI. The RPI's Top 5 would go like this: George Mason, UMBC, VCU, Morgan State, Hampton. Georgetown is seventh among Locals.
Results after the jump.
1. Georgetown (7-0) 650 (65)
--Saturday vs. Radford.
--Do you think JTIII cuts out the poll from each week's sports section and posts it on the door of his office? I would. (Chris Olson)
2. Virginia (7-2) 554
--Off.
--The best NIT team in this Poll. (Jason Anderson)
3. VCU (6-3) 469
--Saturday vs. unranked Longwood.
--Much like Mike Huckabee has surged in Iowa, VCU has surged in the Atlantic 11 11. Which is more important again? (Matt Mandel)
4. George Mason (7-3) 438
--Off.
--Kent State reminded George Mason that the Golden Flashes were George Mason before George Mason was George Mason. But the Patriots were just confused. (Sean McLernon)
5. Maryland (6-4) 325
--Wednesday vs. Ohio.
--Gary Williams wants to [*!%] know how Greivis Vasquez got a [*!%] technical foul for punching a [*!%] basket support when the [*!%] officials are supposed to be focusing on the [*!%] conduct of coaches this year. (Eric Swensen)
6. UMBC (7-2) 324
--Tuesday at Central Connecticut State, Saturday at West Virginia.
--Retrievers are now 1-1 versus fake states, beating Morgan State but losing to Wichita State. (Gavin Weiss)
7. James Madison (6-1) 249
--Off.
--JMU just may be the best semi-lower-minor-mid-non-major in the greater-sub-metro-sort-of-mid-Atlantic area. (Glenn Arnold)
8. Virginia Tech (5-3) 240
--Sunday at No. 9 Old Dominion.
--Hokies beat GW 68-36, GW beat UMES 78-39, so UMES would be 71-point underdogs against Virginia Tech, if my math is correct. (Bill Fitzgerald)
9. Old Dominion aka ODU (5-4) 144
--Sunday vs. No. 8 Virginia Tech.
--I'm still waiting for them to play Garfield U. (Markus Videnieks)
10. Hampton (4-4) 47
--Saturday vs. St. Bonaventure.
--Because someone has to fill out the bottom of this poll, and it sure better not be George Washington. (Scott Allen)
11. George Washington (3-4) 38
--Thursday at Binghamton.
--Made 14 shots in a 40-minute game against the Hokies. I made 14 shots in 30 seconds on the Pop-a-Shot at my local bowling alley. (Jamie Paquette)
Also receiving votes: American 34, Morgan State 29, Mount St. Mary's 6, Loyola 6, Liberty 3, Md. Eastern Shore 2, VMI 2, Radford 1, Potomac State 1, Maryland women 1, Mary Washington women 1, Paul Johnson 1, The Hatchet 1.
By Dan Steinberg | December 11, 2007; 3:49 PM ET
Categories: College Basketball
Save & Share:
Previous: Another Big Nighthawks Signing
Next: Lo Duca and Milledge Are Introduced
The comments to this entry are closed.