More Gilbert Stand-Up
I'm attempting to write a story about GilTV, and so I briefly chatted with Gilbert about his comedic influences, and he told me that he practices in the locker room.
"I play like I'm a stand-up comedian sometimes in front of the team," he said. "I'll come out like, 'Ladies and gentlemen, Gilbert Arenas coming to the stage. Yeah, give it up for all the beautiful ladies in the crowd tonight.' And the players look at me like I'm stupid. But you always finish with, 'Yeah, thank y'all for coming out, y'all been a good audience, good night.' "
I recounted this story to Nick Young and Dominic McGuire, who will be providing guest commentary on GilTV on Blog Show tonight tomorrow night (Comcast SportsyNet, Washington Post Live, 5-6 pm), and they both looked at me like I was crazy. Nick Young, they said, is the one who does the stand-up routine in the locker room, with the overly stylized opening and closing lines. Gilbert, they said, was completely borrowing Nick's shtick. Outrageous, they said. I asked Gil about their claims.
"I don't steal," he said.
I should also point out that he appears to be challenging DeShawn Stevenson for scraggliest beard on the Wizards, although I have a policy against taking photos of guys on crutches. Ok, not really.
Anyhow, after the recent visit of the Suns, Gil got a few nice jerseys for his collection, including a Barbosa signed in Portuguese. Correct me if I'm wrong, but I'm told this says something like:
"Arenas, big hugs and best wishes"
The rest of the jerseys after the jump.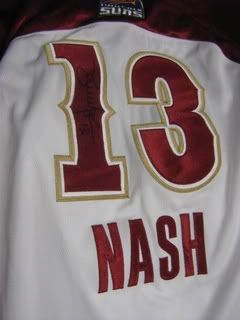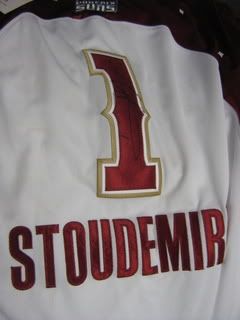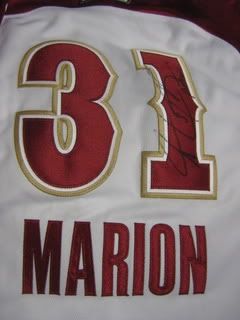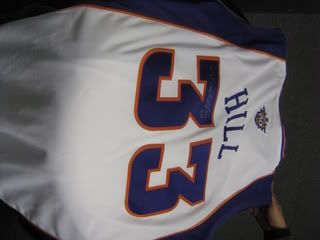 By Dan Steinberg | December 10, 2007; 11:11 AM ET
Categories: Wizards
Save & Share:
Previous: GW's Hobbs Gets Heated
Next: DeShawn Posterizes Jefferson
The comments to this entry are closed.