Rock Chalk Mo' Hawk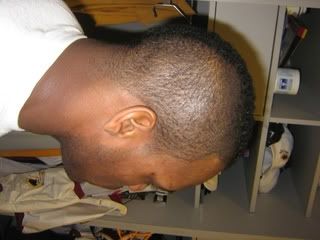 There are a lot of reasons we've gotten to this point of the NFL season, the point in which I'm unable to compile my "Top 11 Best D.C.-Related Bloggish Sports Moments of 2007" list, because it's unclear whether the best moment has happened yet.
Here are two more reasons we've gotten to this point, reasons which are unlikely to appear elsewhere in our newspaper.
1) Rock Cartwright's mohawk. First reported here. But now ever so much puffier and Mohawkian. I asked him for a hair report this week.
"The hair report is still the hair report," he said. "Week Two of the Mohawk and we're 2-0 with it, so it WILL be on my head come Week Three."
Are teammates involved?
"Khary has kind of a little one going, but you can't really see it too much," Rock said. "He calls it the European cut. It's a little different."
(WHOA!!!! You know who first rocked the European cut? Brandon Lloyd, that's who. Don't tell me he was a cancer. Cancers don't start locker room hair style trends.)
"Mine is not a complete Mohawk; it's more of, like, a styled cut, where you might think it is but it isn't," Campbell explained. "I had it earlier in the year; I just went away from it a little bit. Rock is more the full Mohawk, where it's more prominent, you know what I mean?"
Sure. Oh, by the way, any chance of getting the coaching staff involved? Like, say, special teams coach Danny Smith?

"Yeah, but he says we have to score on special teams," Cartwright said. "So hopefully we can get something done."
"That would be tremendous," I said.
"Yeah, that WOULD be tremendous," Cartwright said, "but we have to see."
So now you have to root not just for a win, but for a special teams touchdown, which could cause me to soil myself in the press box.
2) Marcus Washington has a postcard hanging on his locker at Redskins Park.
"Do Or Do Not," it reads, "There Is No Try." Hmmm, that sounds familiar........
"Yoda," Washington said. "I like 'Star Wars.' It's some great stories."
Why not, right? Someone gave him the card in recent weeks. He hung it on his locker. Then the team went to Minnesota as a 6.5 point dog and won.
"Seems like there's some type of Force that's going on here," Washington said. "The Force is strong with us."
He thinks it's just 1-0 since Yoda arrived, but still.
"You're supposed to say 'We're 1-0 with Yoda, but we've won three in a row with Yoder," the AP's Joseph White pointed out, correctly.
"You're right, you're right," Washington said.
"Win we with him," Joseph White said, causing me to again love my job.
By Dan Steinberg | December 30, 2007; 9:29 AM ET
Categories: Redskins
Save & Share:
Previous: Skins Giving Many Points
Next: Redskins Mix Sacred, Profane
Posted by: ScottVanPeltStyle.com | December 30, 2007 1:49 PM | Report abuse
Posted by: Tota | January 3, 2008 2:31 PM | Report abuse
The comments to this entry are closed.