Smack: You've Never Tasted Anything Like This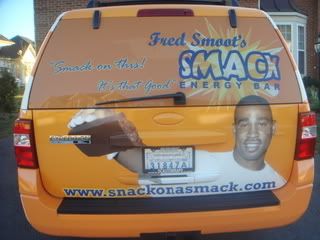 I was feeling a bit peaked after a tough day at Redskins Park this afternoon. Just run-down, really. Out of sorts. Luckily, I had enough time to stop off at Dulles Town Center and grab a half-dozen of Fred Smoot's SMACK Energy Bar ("Snack on a Smack!), and by the time I hit the Toll Road I was ready to spit some junk at various NFL wide receivers. See, it works!
Don't believe me? Here's Ike Nwaneri, one of the three founders of 3Way Enterprises, a year-old Maryland-based branding and marketing company whose first release was the Smoot snack bar this past summer.
"You've never tasted anything like this," promised Nwaneri, who founded 3Way with Charles Muotoh and Robert Robinson, all of whom are in their 20s. "Let everybody know that this is basically the snack to look out for in 2008. We're changing the way people snack."
I figured the Redskins locker room would be a perfect place to receive similar testimonials, but I got a lot of confused looks when I asked about Smack.
"You serious?" Pierson Prioleau asked. "I wasn't familiar with that."
"That's very interesting," Marcus Washington said. "I haven't heard of that one."
"Smoot has an energy bar?" echoed Antwaan Randle-El. "I didn't know that."
"Fred Smoot has an energy bar?" further echoed Todd Yoder. "Really? Have you tried it?"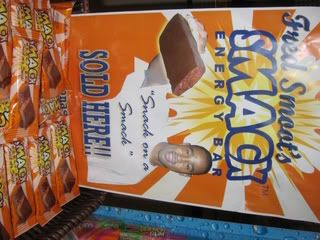 At the time I hadn't, but I did find someone who had. Rock Cartwright, who told me he had a whole box in his house.
"Rock need that help," Clinton Portis said. "I don't."
Portis, in fact had an explanation for why so many Redskins were unfamiliar with Smack.
"Smoot's marketing it to a different crowd, he's marketing it to the older generation," Portis told me with a smile. I asked who was in that generation. "Coach Gibbs," Portis said.
Not true! The product has largely been marketed at clubs, bars, college campuses and gyms. Females, Nwaneri told me, are the biggest fans--which is why there are major plans for Valentine's Day--but "everybody loves it," he said, "from ages 5 through 60."
What about 61-year olds?
"The oldest person who's tasted it is 60," he said. " I even believe someone younger than five will love it. Everybody loves it man."
Don't believe him?
"My girlfriend likes 'em, my sister likes 'em and I definitely like them," Cartwright said. "It's definitely an energy bar, but it's not one of the ones that just has an extremely bad taste to it and it's not extremely sweet. It's in the middle. But it has a good flavor to it."
Want another testimonial?
"It's got chopped up Viagra in it," Portis said. " I'm telling you, it's an aphrodisiac."
Now before anyone gets all worked up, Portis was joking. But it's worth noting, again, that the Web site has some incredible copy writers. A new interactive site will launch sometime in the spring; the current site, to give just one small example, asks consumers to "try not to tear the part of the wrap with the bar code as you rush to rip open your smack bars and unleash the chocolate ecstasy onto your tongue."
Other names were considered for the bar's title sponsor before Smoot was settled on, names like 50 Cent and Nelly and the Bears' Adewale Ogunleye, but 3Way's founders are Redskins fans, and there was some nice symmetry in naming an energy bar after an energetic type of guy, and Smoot--who told me he's "a business man [and] an opportunist" was "in love with the idea from jump," according to Nwaneri. Several teammates said they would love to have his sort of energy; others were less sure.
"I don't know, I see how that kid acts," Matt Sinclair said. "Whatever he's eating to give him energy, I don't want any of it."
But he was joking, too. There are also tentative plans for a Smoot beverage down the lines, although Smoot said "I ain't ready to release that yet, it ain't time," and there are also plans to offer more flavors of Smack, which right now is just available in chocolate crisp, over the Internet or at selected local retailers. There is also a solid marketing plan that includes a roving full-loaded Ford Expedition wrapped to look like a Smack bar. Some of the Redskins were familiar with that side of things.
"Yeah. I saw his face on the side of a damn van, I think it was," Mike Sellers said. "I don't really want to see Fred's face on the side of a van. You know, he ain't the cutest dude."
Smoot, meanwhile, said he eats the bars before games and during halftime for a quick burst of energy; he was responsible for choosing chocolate crisp over a host of other options, and he's also been tasting bars for the next flavor. I asked whether he has a background in nutrition.
"To know if something tastes good or not you don't have to have a background in nutrition," he said. "I know my ingredients, and I've got good ingredients."

By Dan Steinberg | December 12, 2007; 5:46 PM ET
Categories: Redskins
Save & Share:
Previous: CP's Bad Shrimp
Next: Todd Collins Sniffs Footballs
The comments to this entry are closed.