The Gorillas Are Here

The thing about going to an NFL stadium is, you sort of forfeit your normal 21st century tendency to react to general weirdness. Like, if you're wandering around H Street at 5 o'clock on a brisk winter Thursday and you see a man wearing a gorilla suit, you might be inclined to stop and stare. Whereas if you're wandering around FedEx Field at 5 o'clock on a brisk winter Thursday and you see a man wearing a gorilla suit and a Brian Urlacher jersey while tossing a football around a large flame, you will instead think to yourself, "Hmm, yes, I've now seen great apes at two of Washington's past three home games. And remember that guy dressed like cookie monster? That was fun, too. Man those burgers smell good."
Anyhow, I went up to the ape, and as you've no doubt already guessed, it turned out that his friend--who was dressed like a civilian at the time--had also brought an ape suit. It was decided that the friend should put his suit on as well.
"Just take your shirt off," suggested the first ape. "He's pretty furry," he told me.
I needed this ape to slow down so I could jot down some notes before my mind went blank; "my mind went blank a while ago," he said.
This interview was off to a promising start. While Ape II dressed, just for the heck of it I asked Ape I why he was dressed thus.
"We're from Chicago," he said, as if I had asked him why he had two legs. "What's not to understand?"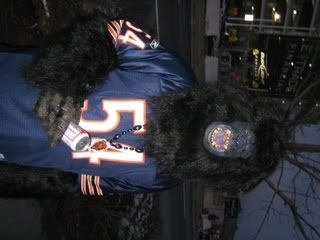 The second ape, 38-year-old Marty Rogers, joined the conversation, and I gently asked why he was so attired. "Should I make something up or go with the real story?" he replied. And I still don't know which option he chose. Here's what he told me: some friends had worn gorilla suits to a Bears game last Halloween. The first ape saw this and thought it was a great idea, so he bought a suit of his own. ("You don't want to rent one," he explained. "You never know what goes on inside a monkey suit.")

So the first ape began wearing his suit to games. He lives in the D.C. area, and he offered Marty Rogers a ticket to tonight's game, under the condition that Marty also wear an ape suit. Marty didn't own such a suit. Luckily, some of his friends had once been in a band called the Damn Dirty Apes, whose gimmick was they dressed in monkey suits on stage. Marty's friend actually owned four such suits, and he loaned one to Marty so he could claim his football ticket, which he did after packing up the suit and bringing it with him on his flight.
"Chicago's a weird city, man," someone pointed out.
I asked whether the Damn Dirty Apes were any good, and the answer was no, not really.
"Because they couldn't play guitar like this," said Marty, who by now had donned his monkey suit and a Dick Butkus jersey. "They one guy had to stick the microphone in his monkey mouth to sing."
"I don't even know, do we have opposable thumbs?" Ape I asked.
"Simian thumbs," Ape II said.
If you're wondering why Ape I is being referred to as "Ape I," he declined to provide his name. Yes, that's right, I'm granting him anonymity. Hey, if we can quote anonymous Redskins sources griping about the team's offensive practice habits, I see no reason why we shouldn't quote anonymous apes.
"You haven't seen my nipples yet," Ape I noted, which was true, although he quickly lost interest in that line of inquiry. It was getting colder, and there was a beautiful sunset off in the distance, and the parking lot was filling up with more fires and more meat and more oddballs, and even though there were still Sean Taylor memorials all around us it, felt a bit more like a regular old NFL football game. We all watched the Urlacher Ape wander off to a nearby tailgate, drawn by the smell of brats.
"He does that sometimes," said Jerry Long, who, strangely, was not dressed like any sort of an animal at all. "He's not the same as the rest of us."

By Dan Steinberg | December 6, 2007; 6:49 PM ET
Categories: Redskins
Save & Share:
Previous: Dominic McGuire's Wiz Impersonations
Next: Giant Presidents and Gil's Constipation
The comments to this entry are closed.