The Santa Claus of Bikes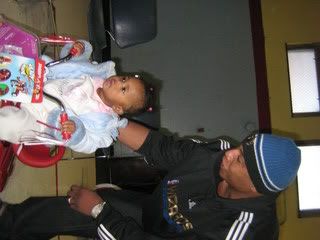 First it was Gilbert riding around downtown on his red mountain bike. Then yesterday, it was Alex Ovechkin on a Segway. And today? Why it was Caron Butler's Great Christmas Bike Giveaway of 2007, of course. This, friends, is the undisputed best source for all your two-wheeled local athlete news. Tune in tomorrow, when the Nationals will race your favorite D.C. United stars down Pennsylvania Avenue on scooters and wheelbarrows.
Anyhow, Butler's Bike Brigade has distributed 800 bikes in Racine, Wisc. in recent years, and today the Bike Brigade landed at the Sherman Avenue Salvation Amy, complete with 100 bikes and helmets for kids aged 1-16, plus lots of hugs and holiday wishes. Butler's cousin, Richard, once had his bike stolen, and Caron decided he would replace it and also buy a few hundred more bikes on top of that, and bikes have since become his trademark. And so today there were $7,000 worth of bikes, and lots of "Merry Christmas sweetheart" and "Merry Christmas buddy" hugs, and the requisite aw-isn't-that-great quotes, like this one.
"Seeing the smiles on the kids face, it really made me feel a ton better," he said. "This is what it's about. And I'll go home and kiss my wife and play with my little daughter tonight and just really enjoy it."
Wisely, someone asked whether his daughter would be receiving a bike.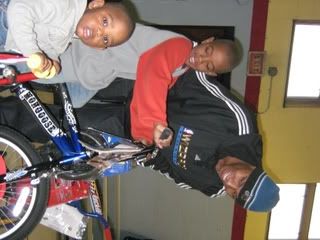 "Yeah, definitely man," Butler said. "You know, bikes is my thing. I'm the Santa Claus of bikes. I love giving bikes."
Now a lot of serious journalists would recoil from printing such heart-warmery, but I figure it's that time of year, and it's especially worthwhile if it can help us learn something new about Butler. So let's see, thinking, thinking....
"I was a big fan of Big Wheels," he said. "But Big Wheels are kind of played out a little bit now. Everybody loves the bikes....
"I had a blue [Big Wheel], I was a Thundercat. That was my alter ego. I was Lion-O from the Thundercats. Yeah, man, I used to love that cartoon. Lion-O was the man. He always saved the day. When Panthrow and Cheetara and all them was messing up, Lion-O used to come through [illustrated at this point by hand gestures connoting violence and saving of the day]. He used to see things in the sword."
"Yeah man, that's how we do, I had a Thundercat Big Wheel. Once I got in mountain bikes, my whole thing when I was growing up man, we had the Cadillac Boy Posse, right? And we used to have the car emblems. Like the Cadillac sign on the car? You'd put that on your bike, and use a whole bunch of reflectors on it. So you'd have like reflector, reflector, reflector, reflector. You'd have a row of six all the way around, and you're coming through, popping wheelies and all that. That's a true story."
But this isn't about a youthful Caron Butler "borrowing" Cadillac emblems for his Mountain Bike and pretending to be Lion-O. This is about, for example, young Malik, who was asked by Wizards TV what he would do with his new bike.
"I'm gonna ride it," he said.
Yes, if you were so inclined, you could find some humor today. If you were so inclined, you could also find stories that were poignant for another reason, like that of 13-year-old Ashley Padgett, who's had 17 brain surgeries in her young life and has been in and out of the hospital since September.
"She's been waiting for this day," her mom, Sherine Padgett, told some of us. "Once I found out we were doing this, she just went crazy. This is probably the biggest thing we've done since September. It might seem small to you all, but...."
And if you were so inclined, you could also watch as 7-year-old Faith Macklin received her bike, then went and hid in the bleachers until Butler was done, then presented him with a folded-up piece of paper. "Can I read it now?" Butler asked her, and she said he could and then sprinted out the back door of the Salvation Army. The note said "Thank You Caron."
"Where'd she disappear to," Butler said, as Faith hid out back behind a van. "See, I would have given her a hug."
Finally she reappeared, and Butler thanked her.
Two questions I know you've been wondering. Does Caron ride a bike, with a horn?
"Of course," he said. "I don't have a horn. But I do ride with a helmet. Made by Nike."
And what does he think about Gilbert's helmet-less bike-riding ways?
"It is what it is man," he said. "Gilbert's a little different. But he's definitely enjoying himself on the bike and that's something that I did this summer as well....I would have loved to give Gilbert a bike. But he didn't show up to the giveaway."
By Dan Steinberg | December 20, 2007; 6:22 PM ET
Categories: Wizards
Save & Share:
Previous: More Taylor Tributes
Next: NFC Playoff Calculator
The comments to this entry are closed.