52 Hours at Verizon
It's very easy to make historical claims about the greatness of recent events, because people have poor memories, and everyone likes to get caught up in the moment, and no one cares enough to go to the facts or the history.
That being the case, I'm going to make a historical claim about the greatness of recent events: Has there ever been a 52-hour period in which the Verizon Center hosted three more crazily important euphoric moments concerning three different teams than what happened this past weekend?
1) First, the Caps time the signing of the biggest professional sports contract in D.C. history with their "Meet the Team" party, leading grown men to shed tears of joy (presumably) as Alex Ovechkin's long-term future in this city was assured (presumably). Watch video of the announcement here.
1a) Friday things were mostly quiet in the building, allowing me space to note my three favorite parts about the Wizards road game:
I) The Comcast SportsNet crew striving admirably to show shots of a concerned Eddie Jordan without also highlighting the ample body parts of the woman seated directly behind the Wizards bench. Sometimes, as in this image, they failed.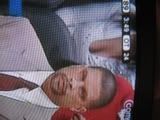 II) The day my item about the Locksmith was printed in the paper, DeShawn Stevenson made three tremendous defensive plays down the stretch. After one, he returned to the Wizards bench, where assistant coach Dave Hopla could clearly be seen shouting out "LOOOOOOCKSMITH!!!!!"
III) Andray Blatche, blocking a shot and then breaking out the Dikembe finger waggle. Not sure Andray has quite that gravitas yet, but it was funny anyhow.
2) Back in Chinatown, we come to Georgetown beating its longtime Big East nemesis in front of a packed house on a last-second three-pointer from its 7-foot-2 center. Video here. When the camera pans to the crowd behind the backboard, you can clearly see a splotch of yellow high up in the stands. That would be Pikachu. The fan video is here; the winning shot doesn't come until about 4:10. When watching, please bear in mind this Rich Chvotkin call, provided courtesy his very amused son Evan:
(Quick and excited) Summers trying to drive. Summers holding. Gets it to Hibbert. Roy puts up a shot. Top of the circle. (Screaming) GOT IT! OH MY! ROY HIBBERT HIT THE SHOT!! OH MY!!! (Losing control) ROY HIBBERT!!! HIT THE SHOT!!!! IT'S A THREE!!!! FOR ROY HIBBERT!!!! (Steam emerging from head) THE SHOT IS GOOD!!!!! BY ROY HIBBERT!!!!!!!!
3) And if that wasn't enough, the Wizards, still minus their best player, go out and beat the best-dang team in the NBA, on the same floor, not 12 hours later, in front of Ovechkin.
Truth aside, that seems like a pretty powerful historical trifecta.
By Dan Steinberg | January 14, 2008; 8:56 AM ET
Categories: Caps , College Basketball , Wizards
Save & Share:
Previous: Hoyas Win! Pikachu Returns!
Next: DeShawn, Pech, Donjulio and Capri Sun
Posted by: sitruc | January 14, 2008 9:17 AM | Report abuse
Posted by: MDT | January 14, 2008 9:26 AM | Report abuse
Posted by: EricS | January 14, 2008 12:38 PM | Report abuse
Posted by: ScottVanPeltStyle.com | January 14, 2008 3:04 PM | Report abuse
Posted by: Arlington Pimp | January 14, 2008 5:43 PM | Report abuse
Posted by: amp69 | March 10, 2008 2:34 PM | Report abuse
Posted by: Diana | April 14, 2008 5:32 AM | Report abuse
The comments to this entry are closed.