Coach Joe's Send-off Rally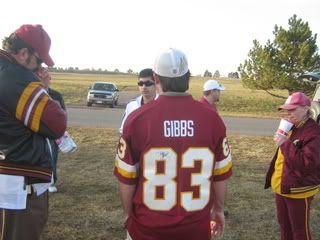 What do you get the man who has everything? More to the point, what do you get the Hall of Fame pro football coach when he retires from the Redskins for a second time? The answers:
* Burgundy and gold flowers: mums, roses and some unknown blooms from the Giant.
* Eight burgundy and gold balloons, plus a purple vanity balloon with a whistle graphic and the words "#1 Coach."
* A stuffed bear, wearing a burgundy Redskins jacket that reads "Coach."
* A Christmas ornament that says "You're a blessing for always."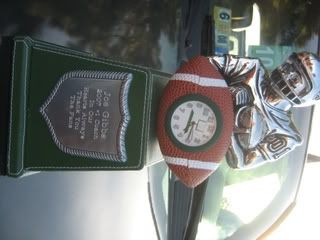 * A green-tinted football clock-trophy inscribed with the following words: "Joe Gibbs 2007 #1 Coach; In Our Hearts Always; Thank You; The Fans."
* A giant thank you card on which fans will write things like "Coach thank you for being you and making us look great," and "Thank you for all the years!" AND "Coach - thanks for everything!" and "What a man - we will love and miss you."
* Most importantly, a green stuffed frog wearing Redskins garb that dances to the strains of 50 Cent's "In Da Club" when prompted. Really. I'd like nothing better than to see Joe Gibbs's face when presented with a hip-hop-loving stuffed Redskins dancing frog. I bet he'd croak.

"I'm sure his grandkids will love grandfather's frog," said Christie Lopez, who organized this particular gathering and many other fan gatherings at Redskins Park. "Whenever you're depressed, just pull out the frog and you'll start laughing."
Lopez had made a sign featuring photos of her four-year-old Bassett Hound. Named Gibbs, of course. Her husband was wearing a "Gibbs 83" jersey, in honor of the uniform Gibbs wore at San Diego State.
The people began arriving at the Park around 2:30; two or three at first, about two dozen by the time Gibbs started speaking and about 40 by the time all the questions finished. Gibbs's press conference played out of two car steroes; during his opening remarks he thanked the fans for coming out in horrible weather over the years as they stood there in the sunlight.
"I was always treated better than I deserved in Washington," Gibbs said, one of his many paeons to the fans he uttered today.
Meanwhile, the fans on the premises clustered in circles, talking about who the next coach might be, tossing around a football, signing that giant thank you card, showing off their new Redskins tattoos and their rapidly made Gibbs photo collages.
"We live far away; we just jotted down a sign on anything we could find," explained Toni Lowman of Solomons, who was carrying a "Thank You Coach Gibbs!" sign made out of a cardboard packing box.
James Duncan of Ashburn came with a sign crammed with newspaper photos of Gibbs, including one shot from the day he was reintroduced as the team's coach. Duncan's face appears in the image, just beyond Gibbs.
Mostly, the fans said they weren't surprised that Gibbs had left, that they knew how important his family was, that despite the lack of Super Bowl wins they were sure he was leaving the franchise in a much better state than he found it.
"One thousand percent" said Sandy Zier-Teitler, who brought the flowers..
"He's the greatest coach in the world," said 18-year-old Mike Caine. "I don't know who's going to replace him, because there's no one like Joe."
But it was better than 60 degrees in January, and Caine was throwing around a football in a muddy field while the questions droned on from some car radio, and he didn't seem particularly concerned about the future.
"Our team will get through it," he said. "It's all good. Not a worry at all."
By Dan Steinberg | January 8, 2008; 5:06 PM ET
Categories: Redskins
Save & Share:
Previous: When Gibbs Retired, the First Time
Next: The Dems and the Redskins
Posted by: Teddy | January 9, 2008 8:25 AM | Report abuse
Posted by: dareltl | January 23, 2008 9:34 AM | Report abuse
The comments to this entry are closed.