Colin Cowherd: Still Dumb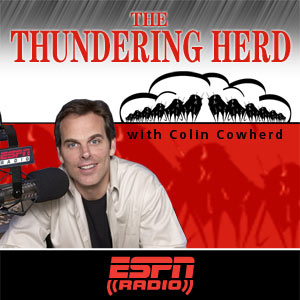 Another great radio show for Colin on Friday!!!!! And before you ask me, "Why, Dan, were you possibly listening to this drivel that you're obviously predisposed to loathe?" let me state for the record that I was driving my young daughter around in the car and Colin's melodious ranting had put her to sleep, and so I didn't want to change the station and risk waking her up.
Ok, so Friday I'm stuck listening to Colin Cowherd as he discusses Serena Williams's blog, a story which he could have learned about either from this blog or this blog. Here's what he said:
Serena Williams, Australian Open champ, great tennis player, she went on her blog this week. Did she talk about the championship, endorsements, future winnings, her competitors? No. She talked about getting her heart broken from her boyfriend who dumped her. That's just not something guys would ever talk about on a blog. You know what I mean? Now, most guys with blogs don't have girlfriends, good point Vince. But she went on, and I mean, gets really, it is, you can go to it....Should I send people to the Web site or will I get in trouble. Every time we do that, we blow it up....

[Reads excerpts]

Dude, if Donovan McNabb or Mark Cuban or Curt Schilling ever go down that path, all bets are off. Can you imagine? Literally, can you imagine Donovan McNabb going on his blog, [adopts effeminate voice]: I thought Brian Westbrook and I were closer. I loved him. He didn't reciprocate. In the huddle, we embraced each other. I held his hand, he held mine. We called a play. We looked at each other, spoke. He was in motion, patted me on the rump as he went by, and then he never called. It's very terribly sad.
Now, aside from the fact that a guy being emotional on a blog wouldn't necessarily, in 100 percent of cases, mean that the guy was actually gay, Colin is undoubtedly correct. I mean, really, what athletic star in his right mind would ever discuss anything besides wide receivers on his blog; would ever dare to discuss something as obviously emasculating as relationship troubles? It's absurd on its face.
Wait, what's that? You're thinking of Gilbert's famous, widely read and widely quoted blog entry from way, way, way back in November?
You know what? When stuff goes bad it goes bad. I just broke up with my girlfriend and I don't get to see my kids for a while because of the breakup....

Now she's back in California. You ask for space, you know, because everything feels closed in ... the house is dirty, the kids are drawing on the walls and on the couches and you're thinking, "Oh man, I can't do this. I'm not playing well and I'm coming home to all this."

So you ask for space and now you got clean walls, clean furniture and you're lonely.
Oh, right. A blog item Colin forgot to steal. So the entire premise of his rant was complete nonsense, and it thus served only to allow him to use an effeminate voice while pretending two guys liked each other. Good stuff.
Oh, and check out this blurb from his site, concerning Brett Favre: "A couple of years ago Colin was bashing Brett Favre, but he's admired how Favre has evolved as a human being and embraced changing." That, friends, is can't-miss radio.
By Dan Steinberg | January 14, 2008; 1:06 PM ET
Categories: Media
Save & Share:
Previous: Gilbert's (26th) Birthday Bash
Next: The Crowd at Pitt: More Gorillas?
The comments to this entry are closed.