Cowherd, SVP and Tirico

So it's pretty quiet around here. There are lots of white male print reporters wearing bright white sneakers. There are also some better dressed white female print reporters.
Just outside the Phoenix Convention Center is the ESPN radio set, complete with real ESPN personalities sitting around outside the Hyatt/Einstein Bagels across the street. And so, for instance, you might chat with Scott Van Pelt about Maryland's basketball team (and Super Bowl cheese options), or with Mike Tirico about the FBR Open. Or with Colin Cowherd about blogs.
"We're a blog on radio," was one of the things he said to me.
"We see blogs as our allies," he added, talking about how he sends traffic to blogs and blogs reciprocate. "We are emerging media."
He said his job on radio is to have opinions, and that the medium requires him to be more theatrical than he might be in normal conversation but that he's never said anything he doesn't believe. He said nothing is off the cuff; that every part of his show is planned and every opinion is believed. He also said he's thinking about starting a blog of his own. And, with luck, he will be a special correspondent on tomorrow night's Blog Show, airing on Comcast SportsyNet.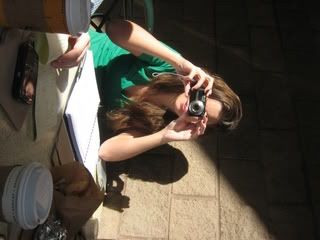 In the meantime, you literally can't walk 10 steps without walking into someone talking about how they have to blog. Pictured here is Jenny Vrentas from the Star-Ledger's party party party blog, which can be found over here. She seems to be a lot more prolific than yours truly.
(PS: For those wondering why I didn't get into a screaming match with Cowherd about Sean Taylor, let's face it, I tend to be very docile in the face of even the mildest form of celebrity.)
By Dan Steinberg | January 28, 2008; 1:29 PM ET
Categories: Media
Save & Share:
Previous: OMG Celebrities
Next: Super Swag
The comments to this entry are closed.